Past Events & Announcements
---
2017
Annual Jujube Workshop
Wednesday, September 27, 2017, 2:00- 4:30 pm
Fall cool nights and warm days trigger the ripening of fruit, including the Chinese date, commonly called jujube. The annual fruit-tasting workshop, held by Cooperative Extension Service fruit specialist Shengrui Yao, will feature a presentation about jujube flowering and fruiting habits, a tasting session of the 40-plus cultivars, and a field tour.
Since 2010, Yao has promoted jujube fruit as a solution to the significant financial impact experienced by northern New Mexico fruit growers because of late frosts in mid-May. Jujube trees begin blooming in June.
"Some of the cultivars are very impressive with around 50 percent of the trees carrying 5-10 pounds or more of fruit in 2017, third year after planting at Alcalde," Yao said.
The free workshop at the Sustainable Agriculture Science Center in Alcalde is limited to 40 participants. You can register online or call Augusta/Anna at 505-852-4241.
---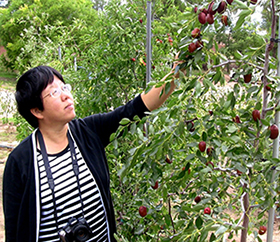 Fruit Tree Grafting Workshop
Tuesday, July 25, 2017, 6:00 - 7:30 pm
"There are many reasons to graft," says Shengrui Yao, NMSU Cooperative Extension Service fruit specialist. "Grafting can be used to save trees that have partially damaged bark. Or to switch cultivars to make an orchard more profitable."
Join us for a fruit tree grafting presentation and hands-on experience with Shengrui Yao, Fruit Specialist. Please bring a small sharp knife for the hands-on session.
This event will be limited to 20 participants. Please register by contacting Augusta or Anna at 505-852-4241 or register online at: http://rsvp.nmsu.edu/rsvp/fruitree2017 .
---
From Bloom to Bloom: Medicinal Herbs for Pollinator & Human Health
Friday, June 16, 2017, 9 am- 12 pm
From Bloom to Boom is a project initiated by NMSU- Alcalde Sustainable Agriculture Science Center Horticulturist Robert Heyduck, farmer-researcher Todd Bates of NM Native Plant Recyclers, and queen honey bee breeder-researcher Melanie Kirby of Zia Queenbees Farm & Field Institute. This first investigation will share information on Oregano de la Sierra- a well known native New Mexican medicinal herb.
Todd Bates will share information on how he cultivates the plant- from its wild mountain roots, to adapting it to lower elevations along the Rio Grande and on its medicinal properties. Robert Heyduck will share information on the process of the investigation and sampling/collection protocol for assessing the potential benefits of this glorious plant. Melanie Kirby will share information on the importance of habitat and its relationship to pollinator health and fortifying locally adapted strains of pollinators.
Additional guest lecturers include: Dr. Don Hyder, a chemist at San Juan College (Farmington) who will share information on chemical analysis and composition of medicinal NM honeys and hive products.... Dr. Olivia Messinger-Carril will share pollinator identification information and about her North American native bee book (Princeton Press), Know the Bees in your Backyard Dr. Ashley Bennett ,Small Farm IPM Specialist, Los Lunas NMSU Agriculture Science Center Dr. Jose D. Villa, USDA-ARS Baton Rouge Bee Research Unit (retired)
This is a FREE event! Open to the public. Registration starts at 8:30 am. Please see flier for more details or call Anna Trujillo at 505.852.2668.
Registration begins at 8:30 am at NMSU SASC in Alcalde. At 9 am the event will begin. At 10:30 am the group will move to Todd Bates field in Embudo. Please consider carpooling and there will be snacks provided.
---
Annual Fruit Grower Workshop
March 2, 2017, 8:30 am - 3:30 pm
Come to Los Luceros Ranch in Alcalde, NM for a day of learning about organic fruit production and pruning with Shengrui Yao, crop selection, Integrated Pest Management (IPM), soil building, FSMA food safety requirements, and more! Lunch and coffee will be provided. Pre-registration is due February 15 with a $12 fee. From February 15- 22, the registration fee is $15. Please contact Joy at Santa Fe County Extension Office at 505-471-4711 or Anna at NMSU Alcalde Center at 505-852-4241.
---
Mountain West Seed Summit & Field Trip
Summit: "Honoring Origins and Seeding the Future," March 3 - 4, 2017
Join Seed Stewards from the Mountain West and beyond for three days of seed knowledge and networking in beautiful Santa Fe. The Rocky Mountain Seed Alliance, in partnership with the Rocky Mountain Farmers Union and the McCune Foundation, presents a two-day summit and one-day field trip focused on training and inspiring seed producers across the Rocky Mountain region. The Mountain West Seed Summit will include presentations, demonstrations, hands-on activities, lively discussions, seed exchanges, art, music, and more!
---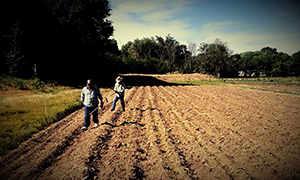 New Mexico Organic Farming Conference
February 17 - 18, 2017
The 2017 New Mexico Organic Farming Conference is an annual opportunity for farmers, ranchers, and researchers from around the Southwest to share their experiences and expertise at the Marriot Hotel in Albuquerque, NM. New Mexico State University Cooperative Extension Service is a proud organizer of the conference. Please join us!
---