Sustainable Agriculture Science Center at Alcalde
We are open Monday through Friday from 7:30am - 4:30pm; closed for lunch from 12:00 - 1:00pm.
For general information or questions, please contact the Rio Arriba County Extension Service at 505-685-4523 (Abiquiu) or 575-588-7423 (Tierra Amarilla). Or go to Rio Arriba County Extension Services.
---
Save the Dates!
---
There are no events currently. Please check back with us soon!
---
Announcements
---
SASC is Hiring for Ag Science Center Laborer
Posted April 3, 2020
We are hiring for a laborer position in the field. This person will performs activities such as planting, cultivating, weeding, irrigating and harvesting experimental research plots and crops and/or providing care for laboratory or farm animals in an animal facility or farm environment; watering, raking, mowing, trimming, edging, and trash/litter pickup and disposal activities. Application of sprays, fertilizers and pesticides to fields. Operation of vehicles, farm equipment and power tools. May provide direction to entry level staff. Check out the job posting and apply online via the link below.
---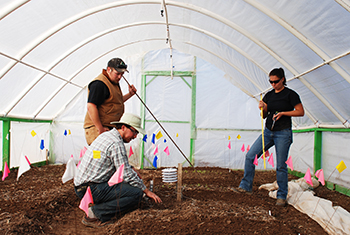 Del Jimenez Revises Publication "High Tunnel Hoop House Construction for New Mexico"
Del Jimenez, Agricultural Specialist, is a master of hoop house construction. Built as a sort of greenhouse structure, high tunnel hoop houses rely on passive solar heat to extend seasonal growing and potentially improve income for an operation. Del has been teaching growers how to build hoop houses efficiently and economically for several years. This article reviews practical information as well as provides a material list with estimated costs. With hoop house structures, you can make the farming of food crops affordable, profitable, and fun all year long.
---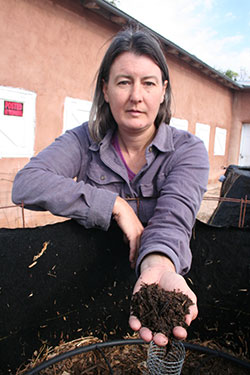 Amy Larsen's Bioreactor Research Covered in CSU Article
Because the need for soil regeneration and carbon sequestration to mitigate the effects of climate change and improve food security is so great, more data is needed to determine whether the results Dr. Johnson was able to achieve on his test plots at New Mexico State University can be duplicated in other climates and soil conditions. Instructions for building your own Johnson-Su bioreactor have been distributed widely including at the Center for Regenerative Agriculture website at Chico State.
In March 2019, the Center for Regenerative Agriculture started an online registry to keep track of who is participating in this effort and to log their results. Response was positive and CSU now has 35 participants registered from nine countries and seven U.S. states with new additions every week. Submissions have come from university researchers (including NMSU SASC Amy Larson), farmers, Master Gardener programs, sustainability-focused nonprofits, and curious members of the general community.
---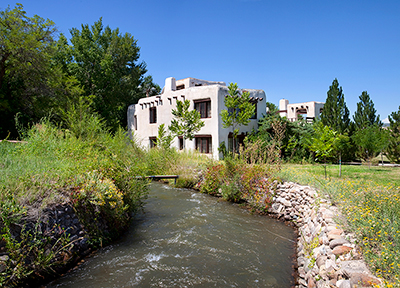 Scientia Publishes Spanish Version of "Empowering High Desert Communities Built for Change: Acequia Project"
Scientia has published the Spanish version of "Empowering High Desert Communities Built for Change: Acequia Project", an article that was released in English in 2018. The article outlines a five year acequia research project conducted by a collaborative team of researchers from New Mexico State University, the University of New Mexico, Sandia National Laboratories, and the New Mexico Institute of Mining and Technology.
By translating the original article into Spanish, Scientia and the Dynamics of Coupled Natural and Human Systems team hope to reach a wider, international audience; several Spanish speaking countries continue to water from an acequia system. The article will soon travel with José Rivera, Professor Emeritus at the University of New Mexico's School of Architecture and Planning, to Spain for the 10th anniversary of World Heritage designation of the Tribunal de las Aguas de la Vega de Valencia. Copies of the Spanish version have also been sent to other acequia scholars and colleagues in Mexico and Peru. Thank you to all of the people who have worked on translating this article.
---
Youth Field Laborer Diego Delgado Returns to SASC for Second Season
The Sustainable Agriculture Science Center Alcalde welcomes back local resident Diego Delgado to our team! He rejoins the field crew for his second season as Farm Laborer. Diego is involved in the several projects around the campus including fruit harvest, field maintenance, and lawn upkeep. He has also been working closely with Amy Larsen and Rob Heyduck with the Johnson-Su composting research project.
---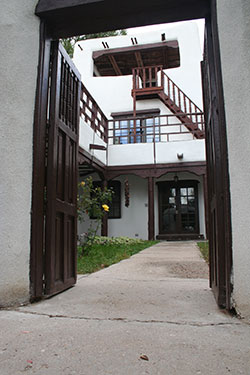 Historic SASC Building Receives Touch Ups
During the Summer of 2018, Sustainable Agriculture Science Center's office building received a touch-up. Included in the building repairs were a new coat of exterior paint; the repairing and restoration of vigas, beams, and headers; and asbestos abatement. In addition, the upper story windows were replaced in order to provide better heat retention. The Science Center continues to serve the public as a nexus of innovative agricultural research and traditional farming/ranching methods while reflecting New Mexico's cultural and architectural legacy.
During the Spanish occupation, the site was a part of a large land grant given by the Spanish Crown to General Juan Andres Archuleta, an officer in the Spanish Army in the early 1700s. Two buildings on the property served as the seat of justice, which is where the name "Alcalde" originated (meaning mayor or Justice of the Peace), for an area that now covers three counties. One building, which still resides on the property, was utilized as the courthouse.
Later the property became the San Gabriel Ranch, a dude ranch that catered to the wealthy and well known-- including the Rockefellers, Mary Cabot Wheelwright, and Georgia O'Keefe, who moved to Abiquiu after visiting the San Gabriel Ranch. In the 1910s, the ranch was mortgaged to Florence Bartlett; and in 1923, she built her home-- what is now the present main office of the Science Center. Ms. Bartlett attempted to establish the International Folk Art Museum onsite but was unsuccessful. Today the museum resides in Santa Fe. In 1950, she deeded the ranch property to the State of New Mexico. The Museum of New Mexico received part of the property, but not knowing what to do with it, the museum later sold it to New Mexico State University. Since 1952, NMSU has been using the site for agricultural research. The main office building, Ms. Bartlett's home, was obtained by NMSU in the late 1960s from the Welfare Department.
---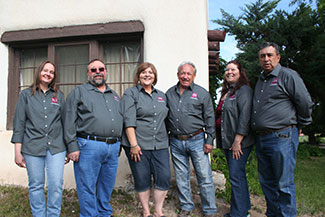 NMSU Receives USDA Grant to Provide Ag Workshops for Pueblo Farmers, Ranchers
During the past 18 years, New Mexico State University has received federal grant funding to provide research-based agricultural information to pueblo farmers and ranchers through workshops, conferences and one-on-one consultation. The College of Agricultural, Consumer and Environmental Sciences has received a $197,492 U.S. Department of Agriculture grant for the 2019 fiscal year. "The funds will be used to continue our outreach program to farmers in the 10 southern and eight northern pueblos in our state," said Edmund Gomez, NMSU program director. "This funding will allow access to our workshops and ag days to all pueblo farmers and ranchers." Through a coordinated effort led by the Cooperative Extension Service's New Mexico Pueblo Outreach Project, the pueblo agricultural producers are made aware of USDA programs that can benefit their ability to own and operate their family farms and ranches; be individually assisted in obtaining participation in these USDA programs; develop markets to increase profitability; and utilize research-based educational and technical assistance programs that are specifically developed for the target audience.
---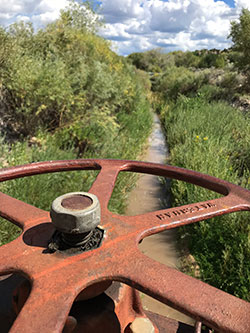 Scientia Publishes "Empowering High Desert Communities Built for Change: Acequia Project"
Scientia, a science communication publication, has published "Empowering High Desert Communities Built for Change: Acequia Project," which outlines a five year acequia research project conducted by a collaborative team of researchers from New Mexico State University, the University of New Mexico, Sandia National Laboratories, and the New Mexico Institute of Mining and Technology. The project, funded by the National Science Foundation, investigated how humans and nature interact in a mutually beneficial relationship through our historical and crucial acequia systems. The multifaceted study examined the various aspects of socioeconomics, culture, hydrology, and ecosystems in order to understand potential "tipping points" and feedback loops associated with population growth and climate change.
A book with the summary and results of the project will be available in 2019. Contact Adrienne Rosenberg at arosen@nmsu.edu for more information.
---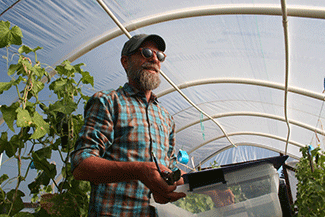 SASC Alcalde Experiments with Growing Cucumbers in High Tunnels for Summer Crop
SASC Alcalde is continuously experimenting with various row crops in the high tunnels/ hoop houses in order to determine the advantages of growing inside these protected, warm environments. In the past, the Science Center has experimented with raspberries and winter greens, but never with an annual summer crop. Rob Heyduck, Senior Research Assistant, has conducted trials for the past two seasons with Corinto ("slicer") and Picolino ("cocktail") cucumbers. The intention of this research is to compare yield and harvest time from inside the hoop house and outside in the field.
The Picolino and Corinto cucumbers, both mosaic resistant, were started in pots in organic potting media and placed in a 16 x 40 ft high tunnel. In mid- May, after the danger of frost had passed, these seedlings were transplanted inside the high tunnel while an equal number were planted outside in a plot. Both varieties were also direct seeded, equal in number, inside the hoop and outside in the field.
All cucumber plants were trained to a single leader up a bamboo stake and twine affixed to a trellis wire at five ft above the ground. In addition, flowers and fruits were pruned from the vines below a height of 30 inches to allow the vines to become well established. When a vine reached 30 inches, fruits were allowed to mature and were harvested at a target size relative to variety recommendations (95-135 mm for Picolino and 165-205 mm for Corinto). Each harvested cucumber was then assessed for length, girth, weight, and marketability.
As of 5 Sept, 2018, 1,583 cucumbers were harvested, or 224 kg, compared to 2,176 cucumbers weighing 273 kg harvested by the same date in 2017. Fruit marketability also declined, with 58% meeting USDA No. 1 quality as compared to 62% in 2017. Warm weather early in the 2018 season appeared to encourage growth, and harvesting began a week earlier than in 2017, but highs in the 90s through much of June and July appeared to slow fruit production. Picolino far outnumbered the yield of Corinto but Corinto has outweighed the Picolino.
In addition, insect pests appear to be more active this year, especially affecting the quality of the thinner-skinned Picolino. Rotation is suggested in order to mitigate bug issues. No formal analyses of the differences between the varieties or planting method have been conducted at this time. The cucumber harvests will continue until frost.
Rob's hope is that SASC can provide farmers and gardeners with guidance on how to build an appropriate grow structure as well as how to utilize the structure year around, not just in the shoulder and winter seasons. Currently, Rob and SASC are assessing the data.
---
Update: Oregano de la Sierra and Honey Bee Trials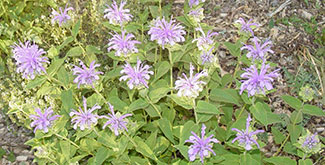 In July of 2018, SASC sent nectar and honey samples off to San Juan College for gas chromatography analysis. It is well known that Oregano de la Sierra (Monarda fistulosa) produces the antibacterial compounds carvacrol and thymol, which make the plant taste like "oregano." But if the bees feed on Monarda's nectar, do those components show up in the gathered nectar in the hive?
Unfortunately, the samples' results portray the two properties in the nectar but not in the stored honey. Therefore, it is unknown if the honey from Monarda pollen and nectar actually benefit bees. There were some changes in disease and mite levels. Mite loads decreased after feeding on the Oregano de la Sierra crop but it was observed that the levels rose again by the end of September.
The research trials were funded for one year. There is no more incoming data.
---
NMSU Launches Website Featuring Newly Trademarked Jujube Cultivars
AmeriZao is the new trademarked name for jujube fruit trees tested by New Mexico State University's College of Agricultural, Consumer and Environmental Sciences.
"Since these cultivars are originally from China, where Zao is the word for this fruit, I wanted to keep the traditional name in the trademark," said Shengrui Yao, NMSU Extension fruit specialist. "AmeriZao cultivars are American jujubes since they have been propagated and tested in New Mexico."
Yao hopes the NMSU Jujube website will help people identify the cultivar of jujube they may currently own, or help growers select cultivars in the future.
---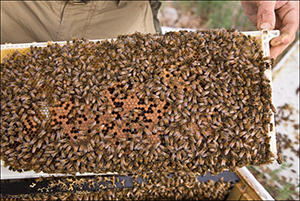 SASC at Alcalde Part of Team that Receives USDA Grant to Conduct Experiment with Honey Bees and Oregano de la Sierra
The NMSU SASC has partnered with San Juan College, the USDA-ARS Bee Research Lab, and a pair of local producers (Melanie Kirby and Mark Spitzig of Zia Queen Bees and farmer Todd Bates) in an experiment entitled "From Bloom to Boom: Investigating Oregano de la Sierra (Monarda fistulosa) for Potential Bee and Human Health."
The project received a year long USDA Specialty Crop Block Grant Program (SCBGP) in 2016. The team will determine the phytochemicals present in the nectar of Monarda fistulosa var menthifolia and in honey originating from its flowers, and evaluate their effects on bee health and nutrition. At each of three Northern New Mexico sites, bees will be fed Monarda nectar in isolation and free-choice. Nectar and honey will be analyzed by gas chromatography for a range of plant chemical compounds that have shown bactericidal, viricidal, and miticidal activity in previous research, among them carvacrol, thymol, p-cymene. By feeding bees in isolation and free-choice, the team will seek to determine a potential bee preference and evaluate the parasite loads of bees fed different diets. The team also aims to identify a range of native pollinators that also visit Monarda. Results will be disseminated through a local field day, through the website Herbs4Bees, and at national and international professional meetings.
The goal, as a team of professional farmers and researchers, is to examine and promote Monarda as a new crop and/or accessory planting to positively affect bee health in situ and also produce a hive product and field crop that can be processed in a number of ways either as honey, a dried herb (flowers and leaves), or as an extracted product containing the volatile compounds.
---
---
Drought Publications
Publications to assist New Mexico's ranchers, farmers, and homeowners cope with our current extreme drought conditions.
---

Impact Report
Sustainable Agriculture Science Center at Alcalde
371 County Road 40
P.O. Box 159
Alcalde, N.M. 87511
Phone: (505) 852-4241
Fax: (505) 852-2857
Email: alcalde@nmsu.edu

#discoverNMSUextension

Have a favorite NMSU Extension program or story? Share with us how NMSU Extension has impacted your life.
---
---