Sustainable Agriculture Science Center at Alcalde
We are open Monday through Friday from 7:30am - 4:30pm; closed for lunch from 12:00 - 1:00pm.
For general information or questions, please contact the Rio Arriba County Extension Service at 505-685-4523 (Abiquiu) or 575-588-7423 (Tierra Amarilla). Or go to Rio Arriba County Extension Services.
---
Save the Dates!
---
---
Announcements
---
Recording of Acequias and Science: A Community Conversation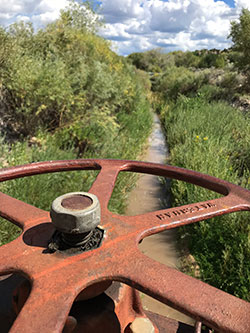 New Mexico Acequia Association invited NMSU to cohost a workshop that centered around the newly released Acequias of the Southwestern United States: Elements of Resilience in a Coupled Natural and Human System. The recorded workshop connected communities with acequia research in order to help mayordomos, commissioners, and parciantes understand scientific results and real-world implications. Coauthors/co-researchers from NMSU, UNM, and Sandia Labs discussed acequias in terms of hydrology, sociology, anthropology, range science, and system dynamics. Participants were able to discuss their acequia concerns as well as research potentials with researchers and NMAA.
---
Acequias of the Southwestern United States: Elements of Resilience in a Coupled Natural and Human System Research Report Published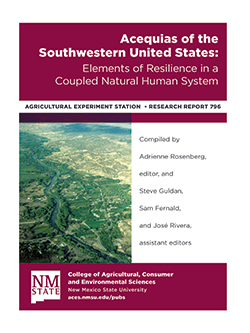 RR 796 is comprehensive research turned book that explores acequia resilience in the face of climate change and expanding urban populations through hydrology, ecology, sociology, anthropology, range management, and agronomy. SASC's own Dr. Steve Guldan was a co-author and associate editor of the book and Adrienne Rosenberg was the primary editor.
In 2010 under the leadership of Principal Investigator Sam Fernald, the research project, Acequia Water Systems Linking Culture and Nature: Integrated Analysis of Community Resilience to Climate and Land Use Changes, was awarded a $1.4 million grant by the National Science Foundation (NSF). NSF's specific grant program, Dynamics of Coupled Natural and Human Systems (CNH), "supports interdisciplinary research that examines human and natural system processes and the complex interactions among human and natural systems at diverse scales." The goals of the Acequia Water Systems Linking Culture and Nature project were to understand the links between culture and nature in the context of acequias. The central hypothesis was that acequias create and maintain the relationships between humans and nature that will allow for resilience in the face of climate change and increasing population growth.
From an ambitious list of project deliverables, this book, "Acequias of the Southwestern United States: Elements of Resilience in a Coupled Natural and Human System," was conceived in order to document the researchers' various findings and to bridge the chasm between the academic analysis of a subject(s) and its translation for the public. In the spirit of the commons, it strives to provide useful information and access for all persons.
---
Extended Conversation on Building Healthy Soil at Pata Viva Farm
SASC Senior Research Assistant Amy Larsen and Farmer Bryce Richard of Pata Viva Farm present on Soil Health Principles research, land management practices, Johnson-Su bioreactor methods, and more! At the end is an intriguing question and answer session where Bryce goes into more depth about challenges, advise, and healthy soil. Funded in part through a generous donation from the Santa Fe Community Foundation and the Seeding Regenerative Agriculture Project.
---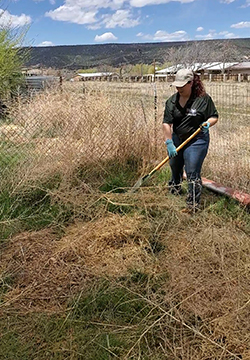 SASC Alcalde Welcomes New 8 Northern Pueblos Extension Agent
In the position as the 8 Northern Pueblos Extension Agent, Gabrielle will serve farmers, ranchers, and community members in: Picuris, Taos, Ohkay Owingeh, Santa Clara, Nambe, Pojoaque, San Idelfonso, and Tesuque pueblos. She will provide technical assistance with one-on-one visits and research-based information. Gabrielle wants to focus on the communities' youth populations and how to engage them in farming and ranching lifestyles. She will plan educational workshops for people of all ages as well. In her prior position of Extension Outreach Specialist, her line of work was based on a USDA Outreach grant and a Beginning Farmers and Ranchers grant; she provided educational workshops on agriculture related subjects and one-on-one assistance to farmers. In her new position, Gabrielle hopes "..that I may bring about involved agricultural programs to the Northern New Mexico Pueblos for people of all ages and skillsets who are interested in learning."
---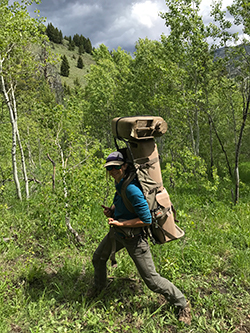 Water Science and Management Master's Student Researches Community Oriented Acequia Monitoring
Since beginning NMSU's Water Science and Management program, master's student, Lily Conrad, has focused her research efforts on bridging the gap between scientists, communities, and water resources. Conrad has installed a telemetry, or remote, monitoring system which collects and displays water data in near-real time on a web interface for six acequias in the Rio Hondo Valley in northern New Mexico. The interface has become a valuable resource by allowing irrigators and acequia leaders to view accurate, consistent, and transparent water resource data at their convenience. Conrad and her advisor, Dr. Fernald, anticipate that this monitoring network will cultivate a better local understanding of short-term water resources, highlight infrastructure improvement needs, and possibly improve acequia adaptive capacity. This research is problem-focused and community-oriented, which Conrad considers to be pivotal to all research.
---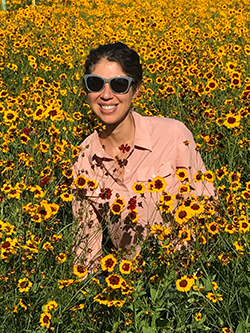 SASC Alcalde Continues Research of Native Bees
New Mexico has been called the "black box" of native bee research. With very little data collected in the state, there are great opportunities for discovery and surprise in Northern New Mexico. Adrienne Rosenberg is starting her second season of collecting and counting native bees. She is comparing an alfalfa plot, a cash crop grown by many New Mexican farmers that is also a pollinator plant, with native wildflowers from Plants of the Southwest. She is using the Streamlined Bee Monitoring Protocol for Assessing Pollinator Habitat and bee traps in each plot throughout the growing season and will compare bee diversity and species that are foraging in each plot for three seasons. Ideal habitat for native bees include a diverse and successional blooming forage from early spring to late fall, nest sites—mostly bare soil, and safety from pesticides. Her research will continue through 2021.
---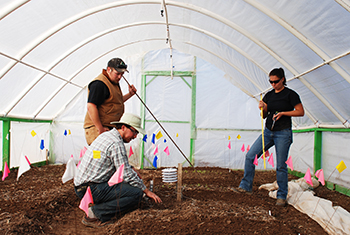 Del Jimenez Revises Publication "High Tunnel Hoop House Construction for New Mexico"
Del Jimenez, Agricultural Specialist, is a master of hoop house construction. Built as a sort of greenhouse structure, high tunnel hoop houses rely on passive solar heat to extend seasonal growing and potentially improve income for an operation. Del has been teaching growers how to build hoop houses efficiently and economically for several years. This article reviews practical information as well as provides a material list with estimated costs. With hoop house structures, you can make the farming of food crops affordable, profitable, and fun all year long.
---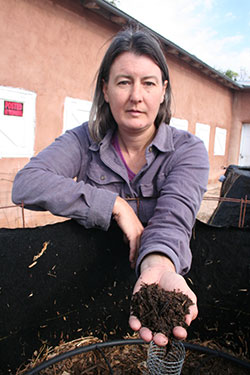 Amy Larsen's Bioreactor Research Covered in CSU Article
Because the need for soil regeneration and carbon sequestration to mitigate the effects of climate change and improve food security is so great, more data is needed to determine whether the results Dr. Johnson was able to achieve on his test plots at New Mexico State University can be duplicated in other climates and soil conditions. Instructions for building your own Johnson-Su bioreactor have been distributed widely including at the Center for Regenerative Agriculture website at Chico State.
In March 2019, the Center for Regenerative Agriculture started an online registry to keep track of who is participating in this effort and to log their results. Response was positive and CSU now has 35 participants registered from nine countries and seven U.S. states with new additions every week. Submissions have come from university researchers (including NMSU SASC Amy Larson), farmers, Master Gardener programs, sustainability-focused nonprofits, and curious members of the general community.
---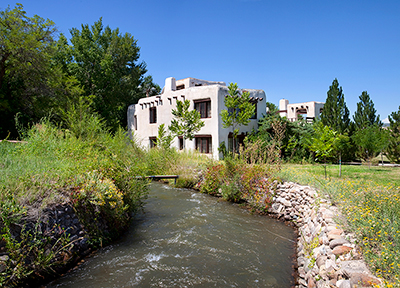 Scientia Publishes Spanish Version of "Empowering High Desert Communities Built for Change: Acequia Project"
Scientia has published the Spanish version of "Empowering High Desert Communities Built for Change: Acequia Project", an article that was released in English in 2018. The article outlines a five year acequia research project conducted by a collaborative team of researchers from New Mexico State University, the University of New Mexico, Sandia National Laboratories, and the New Mexico Institute of Mining and Technology.
By translating the original article into Spanish, Scientia and the Dynamics of Coupled Natural and Human Systems team hope to reach a wider, international audience; several Spanish speaking countries continue to water from an acequia system. The article will soon travel with José Rivera, Professor Emeritus at the University of New Mexico's School of Architecture and Planning, to Spain for the 10th anniversary of World Heritage designation of the Tribunal de las Aguas de la Vega de Valencia. Copies of the Spanish version have also been sent to other acequia scholars and colleagues in Mexico and Peru. Thank you to all of the people who have worked on translating this article.
---
---
Drought Publications
Publications to assist New Mexico's ranchers, farmers, and homeowners cope with our current extreme drought conditions.
---

Impact Report
Sustainable Agriculture Science Center at Alcalde
371 County Road 40
P.O. Box 159
Alcalde, N.M. 87511
Phone: (505) 852-4241
Fax: (505) 852-2857
Email: alcalde@nmsu.edu

#discoverNMSUextension

Have a favorite NMSU Extension program or story? Share with us how NMSU Extension has impacted your life.
---
---