Events & Announcements
Below we have listed some of the major agricultural-related activities scheduled for or on behalf of our Science Center.
---
Events
---
No events are planned for now. Check back with us soon!
---
Announcements
---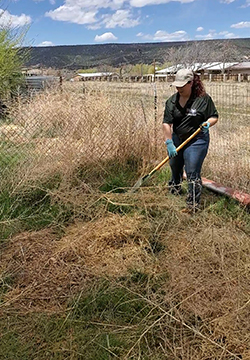 SASC Alcalde Welcomes New 8 Northern Pueblos Extension Agent
In the position as the 8 Northern Pueblos Extension Agent, Gabrielle will serve farmers, ranchers, and community members in: Picuris, Taos, Ohkay Owingeh, Santa Clara, Nambe, Pojoaque, San Idelfonso, and Tesuque pueblos. She will provide technical assistance with one-on-one visits and research-based information. Gabrielle wants to focus on the communities' youth populations and how to engage them in farming and ranching lifestyles. She will plan educational workshops for people of all ages as well. In her prior position of Extension Outreach Specialist, her line of work was based on a USDA Outreach grant and a Beginning Farmers and Ranchers grant; she provided educational workshops on agriculture related subjects and one-on-one assistance to farmers. In her new position, Gabrielle hopes "..that I may bring about involved agricultural programs to the Northern New Mexico Pueblos for people of all ages and skillsets who are interested in learning."
---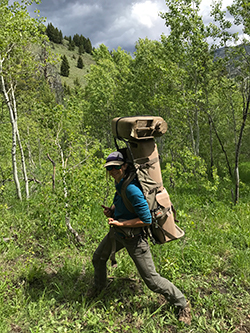 Water Science and Management Master's Student Researches Community Oriented Acequia Monitoring
Since beginning NMSU's Water Science and Management program, master's student, Lily Conrad, has focused her research efforts on bridging the gap between scientists, communities, and water resources. Conrad has installed a telemetry, or remote, monitoring system which collects and displays water data in near-real time on a web interface for six acequias in the Rio Hondo Valley in northern New Mexico. The interface has become a valuable resource by allowing irrigators and acequia leaders to view accurate, consistent, and transparent water resource data at their convenience. Conrad and her advisor, Dr. Fernald, anticipate that this monitoring network will cultivate a better local understanding of short-term water resources, highlight infrastructure improvement needs, and possibly improve acequia adaptive capacity. This research is problem-focused and community-oriented, which Conrad considers to be pivotal to all research.
---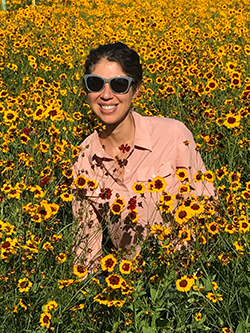 SASC Alcalde Continues Research of Native Bees
New Mexico has been called the "black box" of native bee research. With very little data collected in the state, there are great opportunities for discovery and surprise in Northern New Mexico. Adrienne Rosenberg is starting her second season of collecting and counting native bees. She is comparing an alfalfa plot, a cash crop grown by many New Mexican farmers that is also a pollinator plant, with native wildflowers from Plants of the Southwest. She is using the Streamlined Bee Monitoring Protocol for Assessing Pollinator Habitat and bee traps in each plot throughout the growing season and will compare bee diversity and species that are foraging in each plot for three seasons. Ideal habitat for native bees include a diverse and successional blooming forage from early spring to late fall, nest sites—mostly bare soil, and safety from pesticides. Her research will continue through 2021.
---
---