Events & Announcements
Below we have listed some of the major agricultural-related activities scheduled for or on behalf of our Science Center.
---
Events
2019: New Mexico Organic Farming Conference
Friday, February 15- Saturday, February 16, 2019
Join the New Mexico Organic Farming Conference on Friday, February 15th 7:00 am to 8:00 pm and Saturday, February 16th 7:00 am to 5:00 pm at Hotel Albuquerque at Old Town- 800 Rio Grande Blvd. NW Albuquerque, NM 87104. This is an annual opportunity for farmers, ranchers, and researchers from around the Southwest to share their experiences and expertise! Session tracks for include: Water, Soil, Management, Plant/Seeds, New/Exciting. The keynote speaker is Ron Rosmann.
NMSU SASC Alcalde's very own faculty and staff will be presenting at the conference. Steve Guldan, Superintendent and Professor of the Department of Plant and Environmental Sciences, will be presenting "Acequia Hydrology: Surface Water-Groundwater Interactions in Northern New Mexico." David Archuleta, Farm and Ranch Supervisor, will be outside the conference presenting a smaller tractor built for row-crop farming. David will be demonstrating this unique tractor and will talk about the implements that we are using in our smaller row-crop plots. This is a great demo to check out if you are thinking about a small tractor purchase!
---
Announcements
NMSU Receives USDA Grant to Provide Ag Workshops for Pueblo Farmers, Ranchers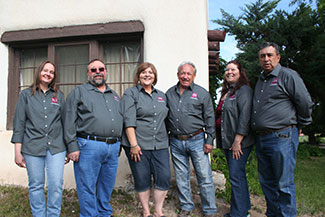 During the past 18 years, New Mexico State University has received federal grant funding to provide research-based agricultural information to pueblo farmers and ranchers through workshops, conferences and one-on-one consultation. The College of Agricultural, Consumer and Environmental Sciences has received a $197,492 U.S. Department of Agriculture grant for the 2019 fiscal year. "The funds will be used to continue our outreach program to farmers in the 10 southern and eight northern pueblos in our state," said Edmund Gomez, NMSU program director. "This funding will allow access to our workshops and ag days to all pueblo farmers and ranchers." Through a coordinated effort led by the Cooperative Extension Service's New Mexico Pueblo Outreach Project, the pueblo agricultural producers are made aware of USDA programs that can benefit their ability to own and operate their family farms and ranches; be individually assisted in obtaining participation in these USDA programs; develop markets to increase profitability; and utilize research-based educational and technical assistance programs that are specifically developed for the target audience.
---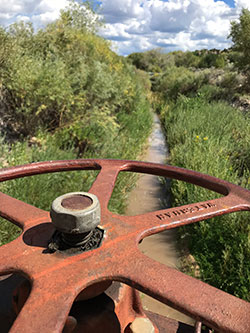 Scientia Publishes "Empowering High Desert Communities Built for Change: Acequia Project"
Scientia, a science communication publication, has published "Empowering High Desert Communities Built for Change: Acequia Project," which outlines a five year acequia research project conducted by a collaborative team of researchers from New Mexico State University, the University of New Mexico, Sandia National Laboratories, and the New Mexico Institute of Mining and Technology. The project, funded by the National Science Foundation, investigated how humans and nature interact in a mutually beneficial relationship through our historical and crucial acequia systems. The multifaceted study examined the various aspects of socioeconomics, culture, hydrology, and ecosystems in order to understand potential "tipping points" and feedback loops associated with population growth and climate change.
A book with the summary and results of the project will be available in 2019. Contact Adrienne Rosenberg at arosen@nmsu.edu for more information.
---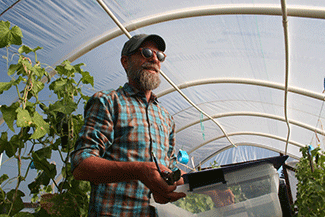 SASC Alcalde Experiments with Growing Cucumbers in High Tunnels for Summer Crop
SASC Alcalde is continuously experimenting with various row crops in the high tunnels/ hoop houses in order to determine the advantages of growing inside these protected, warm environments. In the past, the Science Center has experimented with raspberries and winter greens, but never with an annual summer crop. Rob Heyduck, Senior Research Assistant, has conducted trials for the past two seasons with Corinto ("slicer") and Picolino ("cocktail") cucumbers. The intention of this research is to compare yield and harvest time from inside the hoop house and outside in the field.
The Picolino and Corinto cucumbers, both mosaic resistant, were started in pots in organic potting media and placed in a 16 x 40 ft high tunnel. In mid- May, after the danger of frost had passed, these seedlings were transplanted inside the high tunnel while an equal number were planted outside in a plot. Both varieties were also direct seeded, equal in number, inside the hoop and outside in the field.
All cucumber plants were trained to a single leader up a bamboo stake and twine affixed to a trellis wire at five ft above the ground. In addition, flowers and fruits were pruned from the vines below a height of 30 inches to allow the vines to become well established. When a vine reached 30 inches, fruits were allowed to mature and were harvested at a target size relative to variety recommendations (95-135 mm for Picolino and 165-205 mm for Corinto). Each harvested cucumber was then assessed for length, girth, weight, and marketability.
As of 5 Sept, 2018, 1,583 cucumbers were harvested, or 224 kg, compared to 2,176 cucumbers weighing 273 kg harvested by the same date in 2017. Fruit marketability also declined, with 58% meeting USDA No. 1 quality as compared to 62% in 2017. Warm weather early in the 2018 season appeared to encourage growth, and harvesting began a week earlier than in 2017, but highs in the 90s through much of June and July appeared to slow fruit production. Picolino far outnumbered the yield of Corinto but Corinto has outweighed the Picolino.
In addition, insect pests appear to be more active this year, especially affecting the quality of the thinner-skinned Picolino. Rotation is suggested in order to mitigate bug issues. No formal analyses of the differences between the varieties or planting method have been conducted at this time. The cucumber harvests will continue until frost.
Rob's hope is that SASC can provide farmers and gardeners with guidance on how to build an appropriate grow structure as well as how to utilize the structure year around, not just in the shoulder and winter seasons. Currently, Rob and SASC are assessing the data.
---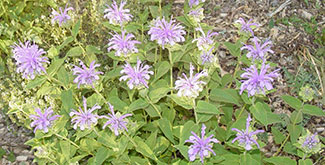 Update: Oregano de la Sierra and Honey Bee Trials
In July of 2018, SASC sent nectar and honey samples off to San Juan College for gas chromatography analysis. It is well known that Oregano de la Sierra (Monarda fistulosa) produces the antibacterial compounds carvacrol and thymol, which make the plant taste like "oregano." But if the bees feed on Monarda's nectar, do those components show up in the gathered nectar in the hive?
Unfortunately, the samples' results portray the two properties in the nectar but not in the stored honey. Therefore, it is unknown if the honey from Monarda pollen and nectar actually benefit bees. There were some changes in disease and mite levels. Mite loads decreased after feeding on the Oregano de la Sierra crop but it was observed that the levels rose again by the end of September.
The research trials were funded for one year. There is no more incoming data.
---
NMSU Launches Website Featuring Newly Trademarked Jujube Cultivars
AmeriZao is the new trademarked name for jujube fruit trees tested by New Mexico State University's College of Agricultural, Consumer and Environmental Sciences.
"Since these cultivars are originally from China, where Zao is the word for this fruit, I wanted to keep the traditional name in the trademark," said Shengrui Yao, NMSU Extension fruit specialist. "AmeriZao cultivars are American jujubes since they have been propagated and tested in New Mexico."
Yao hopes the NMSU Jujube website will help people identify the cultivar of jujube they may currently own, or help growers select cultivars in the future.
---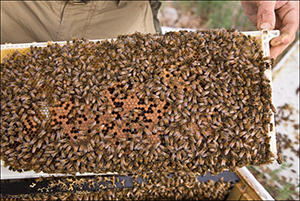 SASC at Alcalde Part of Team that Receives USDA Grant to Conduct Experiment with Honey Bees and Oregano de la Sierra
The NMSU SASC has partnered with San Juan College, the USDA-ARS Bee Research Lab, and a pair of local producers (Melanie Kirby and Mark Spitzig of Zia Queen Bees and farmer Todd Bates) in an experiment entitled "From Bloom to Boom: Investigating Oregano de la Sierra (Monarda fistulosa) for Potential Bee and Human Health."
The project received a year long USDA Specialty Crop Block Grant Program (SCBGP) in 2016. The team will determine the phytochemicals present in the nectar of Monarda fistulosa var menthifolia and in honey originating from its flowers, and evaluate their effects on bee health and nutrition. At each of three Northern New Mexico sites, bees will be fed Monarda nectar in isolation and free-choice. Nectar and honey will be analyzed by gas chromatography for a range of plant chemical compounds that have shown bactericidal, viricidal, and miticidal activity in previous research, among them carvacrol, thymol, p-cymene. By feeding bees in isolation and free-choice, the team will seek to determine a potential bee preference and evaluate the parasite loads of bees fed different diets. The team also aims to identify a range of native pollinators that also visit Monarda. Results will be disseminated through a local field day, through the website Herbs4Bees, and at national and international professional meetings.
The goal, as a team of professional farmers and researchers, is to examine and promote Monarda as a new crop and/or accessory planting to positively affect bee health in situ and also produce a hive product and field crop that can be processed in a number of ways either as honey, a dried herb (flowers and leaves), or as an extracted product containing the volatile compounds.
---