Below we have listed some of the major agricultural-related activities scheduled for or on behalf of our Science Center.
---
Events
There are no events at this time. Please refer back to this page for information on future events.
---
Announcements
Amy Larsen Co-Host Healthy Soils Workshop with Taos Land Trust
We are at a critical time for agriculture and the environment. The realities of extreme weather events, conflicts over water, the blight of rural communities, and diminishing natural resources are bearing down on all New Mexicans, with farmers and ranchers at the forefront of these serious problems. At the same time, awareness that soil stewardship can be part of the solution to the climate crisis has been rising and new approaches, mutually beneficial for agriculture and the environment, are gaining traction. Agriculturalists are looking for ways to improve their soil, but they require know-how, sustained technical assistance, help in over- coming institutional barriers, financial incentives, and risk mitigation.
Ben Wright of the Taos Land Trust and Amy Larsen of New Mexico State University - Alcalde hosted this online workshop on Monday August 31st, 2020 at 5:30 PM (MT) from Rio Fernando Park in Taos, New Mexico. They covered soil testing, compost building and practical applications for reviving degraded land.
---
Acequia Book and Workshop Featured in Rio Grande Sun Article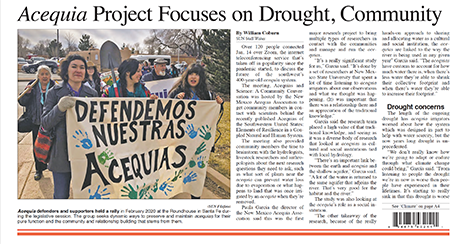 In January 2021, NMSU, New Mexico Acequia Association, and UNM held a public workshop called "Science and Acequias: A Community Conversation" that related the scientific findings from Acequias of the Southwestern United States: Elements of Resilience in a Coupled Natural and Human System. The workshop drew over 120 participants from around the country. This article features Paula Garcia, NMAA, Dr. Sam Fernald, NMSU, José Rivera, UNM, and Sylvia Rodríguez, UNM and discusses hydrological, societal, and drought issues.
---
Recording of Acequias and Science: A Community Conversation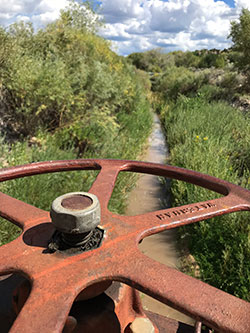 New Mexico Acequia Association invited NMSU to cohost a workshop that centered around the newly released Acequias of the Southwestern United States: Elements of Resilience in a Coupled Natural and Human System. The recorded workshop connected communities with acequia research in order to help mayordomos, commissioners, and parciantes understand scientific results and real-world implications. Coauthors/co-researchers from NMSU, UNM, and Sandia Labs discussed acequias in terms of hydrology, sociology, anthropology, range science, and system dynamics. Participants were able to discuss their acequia concerns as well as research potentials with researchers and NMAA.
---
Acequias of the Southwestern United States: Elements of Resilience in a Coupled Natural and Human System Research Report Published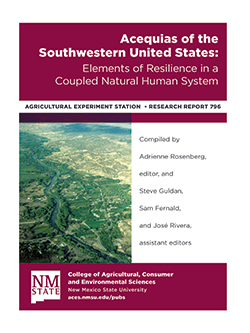 RR 796 is comprehensive research turned book that explores acequia resilience in the face of climate change and expanding urban populations through hydrology, ecology, sociology, anthropology, range management, and agronomy. SASC's own Dr. Steve Guldan was a co-author and associate editor of the book and Adrienne Rosenberg was the primary editor.
In 2010 under the leadership of Principal Investigator Sam Fernald, the research project, Acequia Water Systems Linking Culture and Nature: Integrated Analysis of Community Resilience to Climate and Land Use Changes, was awarded a $1.4 million grant by the National Science Foundation (NSF). NSF's specific grant program, Dynamics of Coupled Natural and Human Systems (CNH), "supports interdisciplinary research that examines human and natural system processes and the complex interactions among human and natural systems at diverse scales." The goals of the Acequia Water Systems Linking Culture and Nature project were to understand the links between culture and nature in the context of acequias. The central hypothesis was that acequias create and maintain the relationships between humans and nature that will allow for resilience in the face of climate change and increasing population growth.
From an ambitious list of project deliverables, this book, "Acequias of the Southwestern United States: Elements of Resilience in a Coupled Natural and Human System," was conceived in order to document the researchers' various findings and to bridge the chasm between the academic analysis of a subject(s) and its translation for the public. In the spirit of the commons, it strives to provide useful information and access for all persons.
---
Extended Conversation on Building Healthy Soil at Pata Viva Farm
SASC Senior Research Assistant Amy Larsen and Farmer Bryce Richard of Pata Viva Farm present on Soil Health Principles research, land management practices, Johnson-Su bioreactor methods, and more! At the end is an intriguing question and answer session where Bryce goes into more depth about challenges, advise, and healthy soil. Funded in part through a generous donation from the Santa Fe Community Foundation and the Seeding Regenerative Agriculture Project.
---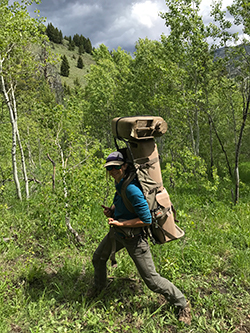 Water Science and Management Master's Student Researches Community Oriented Acequia Monitoring
Since beginning NMSU's Water Science and Management program, master's student, Lily Conrad, has focused her research efforts on bridging the gap between scientists, communities, and water resources. Conrad has installed a telemetry, or remote, monitoring system which collects and displays water data in near-real time on a web interface for six acequias in the Rio Hondo Valley in northern New Mexico. The interface has become a valuable resource by allowing irrigators and acequia leaders to view accurate, consistent, and transparent water resource data at their convenience. Conrad and her advisor, Dr. Fernald, anticipate that this monitoring network will cultivate a better local understanding of short-term water resources, highlight infrastructure improvement needs, and possibly improve acequia adaptive capacity. This research is problem-focused and community-oriented, which Conrad considers to be pivotal to all research.
---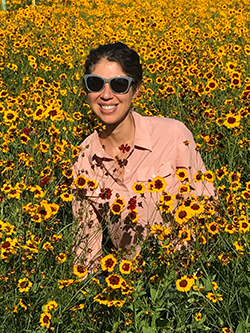 SASC Alcalde Continues Research of Native Bees
New Mexico has been called the "black box" of native bee research. With very little data collected in the state, there are great opportunities for discovery and surprise in Northern New Mexico. Adrienne Rosenberg is starting her second season of collecting and counting native bees. She is comparing an alfalfa plot, a cash crop grown by many New Mexican farmers that is also a pollinator plant, with native wildflowers from Plants of the Southwest. She is using the Streamlined Bee Monitoring Protocol for Assessing Pollinator Habitat and bee traps in each plot throughout the growing season and will compare bee diversity and species that are foraging in each plot for three seasons. Ideal habitat for native bees include a diverse and successional blooming forage from early spring to late fall, nest sites—mostly bare soil, and safety from pesticides. Her research will continue through 2021.