Herbs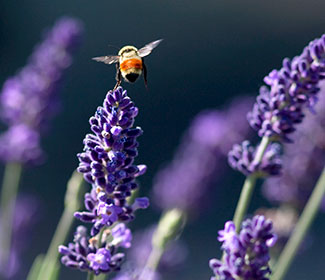 An herb is any plant used as a food, flavoring, medicine, or perfume. At SASC we have been exploring the potential of medicinal herbs as an alternative, high-value crop. Such crops include yerba mansa, cota, and osha. Lavender currently thrives at the farm on a substantial plot.
In addition, the NMSU SASC also partnered with San Juan College, the USDA-ARS Bee Research Lab, and a pair of local producers (Melanie Kirby and Mark Spitzig of Zia Queen Bees and farmer Todd Bates) in an experiment entitled "From Bloom to Boom: Investigating Oregano de la Sierra (Monarda fistulosa) for Potential Bee and Human Health." The project received a year-long USDA Specialty Crop Block Grant Program (SCBGP) in 2016. The goal, as a team of professional farmers and researchers, was to examine and promote Monarda as a new crop and/or accessory planting to positively affect bee health in situ and also produce a hive product and field crop that can be processed in a number of ways either as honey, a dried herb (flowers and leaves), or as an extracted product containing the volatile compounds.
Unfortunately, the lab samples' results portrayed the two antibacterial compounds carvacrol and thymol in the nectar but not in the stored honey. Therefore, it is unknown if the honey from Monarda pollen and nectar actually benefit bees. There were some changes in disease and mite levels. Mite loads decreased after feeding on the Oregano de la Sierra crop but it was observed that the levels rose again. The research trials were funded for one year. There is no more incoming data.
---
SASC at Alcalde Publications
Technical Papers
RR 770_Lavender Cultivator Trial Results for North Central New Mexico

Two cultivars of Lavandula angustifolia Mill. ('Compacta' and 'Hidcote') and four cultivars of Lavandula x intermedia ('Emerisa', 'Grosso', 'Provence', and 'Super') were planted from 4-inch (10.2 cm) commercially obtained nursery stock in a randomized complete block design on June 24, 2002, at the New Mexico State University Sustainable Agriculture Science Center at Alcalde.
---
Additional NMSU Publications
Technical Publications
Research Report 704_ National Market Analysis for Southwestern Herbs

Herbs have a long tradition in New Mexico as both medicinal and food crops. The contributions of Native Americans, Hispanics, and Anglos to the biological diversity and use of herbs within the state have resulted in a strong herbal tradition. Many of the herbs used in Mexican and Mediterranean cuisine can be cultivated in New Mexico and are in demand. Because of traditions, climate, and resources, areas in New Mexico are well suited to produce herbs for existing markets.
Research Report 758_Cultivation of Anemopsis Californica

Under Small Scale Grower Conditions in Northern New Mexico. Anemopsis californica (Nutt.) Hook. & Arn. in the family Saururaceae (Benson, 1959) is an herbaceous perennial with reputed medicinal properties native to riparian habitats of northern Mexico and the southwestern United States. Called by various names including yerba del manso, manso, yerba mansa, lizard-tail, and swamp root (Kress, 2006), it has traditionally been and continues to be used for medicinal and antiseptic purposes by indigenous and Hispanic cultures in its geographic range.
---
Journal Articles & External Publications
"Risk Management Education in Southwest Medicinal Herb Production and Marketing in New Mexico: Assessing Grower and Potential Grower Outcomes after a Two-Day Workshop". Abstract:

A risk management educational program to help small-scale farmers of native medicinal herbs of the U.S. Southwest (SWH) was conducted. Topics included: balancing culture and commerce, species identification, value-added production methods, quality control and marketing, and financial planning. Participants were re-contacted 6 months later to assess follow-through. Only five participants applied risk management principles to their growing operation. Respondents indicated that the workshop series improved their understanding of managing risks associated with growing SWH, but the study highlighted differences between (1) existing specialty crop growers who are able to transition to producing SWH and (2) individuals only curious about SWH but not likely to grow these crops commercially. **Please note that the full article is only available through Taylor and Francis Group**
"Yield Potential of Selected Medicinal Herbs Grown at Three Plant Spacings in New Mexico", HortTechnology, Vol. 13, No. 4, p. 631-636, October-December 2003:

Field studies were conducted to determine the production potential of echinacea (Echinacea purpurea), valerian (Valeriana officinalis), mullein (Verbascum thapsus) and yerba mansa (Anemopsis californica) medicinal herbs at two sites in New Mexico. Las Cruces, N.M., is at an elevation of 3,891 ft (1,186 m) and has an average of 220 frost free days per year, whereas Alcalde, N.M., is at an elevation of 5,719 ft (1,743 m) and averages 152 frost-free days per year. Data were collected on growth rates, fresh yield, and dry yield for the herbs grown at each site. Authors: Kathryn M. Kleitz, Marisa M. Wall, Constance L. Falk, Charles A. Martin, Steven J. Guldan, and Marta D. Remmenga.
"Stand Establishment and Yield Potential of Organically Grown Seeded and Transplanted Medicinal Herbs", HortTechnology, Vol. 18, No. 1, p. 116-121, January-March 2008:

Field studies were conducted in 1995 and 1996 at Las Cruces, New Mexico, and Alcalde, New Mexico, to compare direct seeding to transplanting for stand establishment and yield estimates of calendula (Calendula officinalis), catnip (Nepeta cataria), lemon balm (Melissa officinalis), stinging nettle (Urtica dioica), and globemallow (Sphaeralcea spp.). Calendula established well from seed or transplants at both sites. Transplanting increased establishment of lemon balm, catnip, stinging nettle, and globemallow. Transplanting versus direct seeding medicinal herbs has the potential to substantially increase stand establishment and yield in New Mexico, particularly in the more northern and cooler part of the state. Authors: Kathryn M. Kleitz, Marisa M. Wall, Constance L. Falk, Charles A. Martin, Marta D. Remmenga, and Steven J. Guldan.
---
Additional Links
Oregano Medicinal Benefits for Bees
Herbs4Bees

A research project conducted by NMSU SASC Alcalde to examine and promote Monarda spp. as a new crop or accessory planting to affect bee health in situ and also produce a hive product and field crop that can be processed in a number of ways either as honey; a dried herb (flowers and leaves), or as an extracted product containing the volatile compounds.
NMSU Medicinal Plants

A primary, interdisciplinary research area for Regents Professor Mary O'Connell centers on medicinal plants of the Southwest. She works side by side with colleagues and student researchers to identify cancer-fighting compounds that could eventually be extracted to develop new cancer treatments. Her group is also busy looking for compounds that can help prevent chronic conditions and promote overall health.
---