Ongoing Projects & Results
---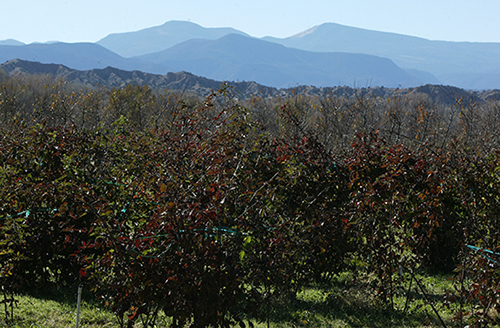 The Sustainable Agriculture Science Center at Alcalde has several projects under way. Below we have information and links to the most recently completed or nearly completed projects and their results.
---
Current Research
---
Evaluation of Jujube (Chinese date) fruit for adaptation in New Mexico. Jujube fruit is nutritious. It can be relied on to produce a crop every year, because it flowers late and therefore avoids late-frost crop losses common with apples, peaches, cherries, and other traditional tree fruit.

Data gathering with weather station for the U.S. National Weather Service providing climatological data since 1953.

Construction of low-cost high tunnels (hoop houses) and collaboration with local farmers and ranchers for extended season production. Current research projects conducted inside high tunnels include intercropping winter greens between cane fruits; organic spinach variety trials, organic cucumber production trials; and stone fruit experiments including apricots, peaches, and cherries.

Participation in NC-140 program, a nationwide rootstock evaluation program for different temperate fruit species (apple, cherry, pear, etc). SASC set up our first NC-140 organic apple rootstock trial to test different rootstocks for organic planting with tall spindle system.

Research expansion to include less familiar crops such as brambles, strawberries, gooseberries, currants, honeyberries, and goji (wolfberry).

Ongoing research on the interactions between surface water and groundwater amoung acequias, irrigated fields, the source river, and the aquifer.

Collaboration on acequia system research at Alcalde, Rio Hondo, and El Rito from hydrological, ecosystem, socioeconomic, and cultural perspectives through a National Science Foundation grant. The multi-year, interdisciplinatry, and inter-institutional project investigates connections between the irrigated valleys and their associated uplands. A book is being written by the co-authors to provide guidance for policy makers, academics, and the people who use the ditch.

Research trials on fungally dominant composting system (the Johnson-Su Bioreactor composting method), soil microbiome, and crop yield. Based on previous experiments, soil inoculated with the bioreactor compost benefits with faster and greater biomass growth, a more efficient transfer of carbon, reduced soil respiration rates, and increased soil fertility.
---
Past Activities & Impacts
---
First organically certified research acres at NMSU established at SASC in order to assist fruit, medicinal herb, and specialty crop growers interested in producing and marketing organically. Studies under certified organic management were carried out on organic codling moth control in apples, peach cultivar evaluation, sweet and tart cherry cultivar evaluation, plum cultivar evaluation, wine grape soil management, table grape cultivar evaluation, bramble cultivar evaluation, and native medicinal herb production.

Relay-intercropping annual forages into sweetcorn and chile has shown that high levels of total seasonal crop production can be attained under local climatic conditions.

Research indicated that, besides providing for agricultural production, local acequia irrigation systems provide critical hydrologic functions. Water seeping out of the acequia ditch and percolating below irrigated fields is stored in the aquifer for several months and then released to the river as groundwater return flow. These systems take spring and summer runoff from the river and retransmit this flow to the river later in the year.

Evaluation of strawberry cultivars under two management systems. Strawberries can provide large gross returns per acre, but available cultivars vary greatly in their ability to grow in the high-pH soils typical of New Mexico.

Research on medicinal herbs as alternative high-value crops. Depending on market prices, returns per acre can be substantial.

Research conducted with under-tree sprinkler systems in tree fruit to protect against late spring frosts.

Research on kura clover, birdsfoot trefoil, and brassicas evaluated to the extent that these alternative forages can provide options to forage and livestock producers.

Research on early maturity and season extension of the Jemez Pueblo landrace chile.

Collaboration between NMSU and local honey and local herb producers to investigate Oregano de la Sierra (Monarda fistulosa) for potential bee and human health. Project was funded through USDA Specialty Crop Block Grant Program.

Long term yield study on "Chester" and "Triple Crown" blackberry varieties.

Cooperation with Dr. Richard Pratt and Dr. Lois Grant to research landrace and heirloom maize and beans.

Research on drought resilient pasture grasses.
---