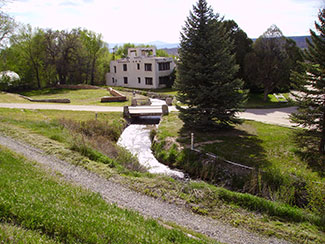 Acequias are the oldest water management institutions in the United States of European origin. These irrigation ditches, brought by the Spanish colonies, once supplied water to a large portion of the Southwestern United States. Today, around 800 acequias continue to feed the fields of Northern New Mexico! Each acequia has a mayordomo (ditch boss) and a commission, which oversee the delivery of water, settle disputes, and maintain the ditch. These ditches also help to restore aquifers and riparian areas. One of the few commons still existing in the United States today, acequias are an essential part of identity and survival. The phrase, "Water is the lifeblood of the community", is often echoed throughout the high desert villages and towns in Northern New Mexico. Acequias are, in short, the living history of New Mexican heritage and agriculture.
The Sustainable Agriculture Science Center at Alcalde is involved in several projects pertaining to acequias. One ongoing project characterizes the interactions between surface water and groundwater among acequias, irrigated fields, the source river, and the aquifer while asking, "To what extent do acequias and acequia-irrigated fields provide the benefits of aquifer recharge and delayed groundwater return flow to the river?" SASC is also part of a study that analyzes and reports on how acequia water systems link culture and nature as well as provide resilience in the face of climate and land-use change. This multi-year, interdisciplinary, and inter-institutional project is based upon research that bridges the fields of social science and natural science through System Dynamics. The intention of the project is to provide guidance for policy makers, academics, and the people who use the ditch.
---
SASC at Alcalde Publications
Technical Publications
Coupled Natural and Human Systems
In 2010 under the leadership of Principal Investigator Sam Fernald, the research project, Acequia Water Systems Linking Culture and Nature: Integrated Analysis of Community Resilience to Climate and Land Use Changes, was awarded a $1.4 million grant by the National Science Foundation (NSF). From an ambitious list of project deliverables, this publication, Acequias of the Southwestern United States: Elements of Resilience in a Coupled Natural and Human System, was conceived in order to document the researchers' various findings and to bridge the chasm between the academic analysis of a subject(s) and its translation for the public. In the spirit of the commons, it strives to provide useful information and access for all persons.
Water Task Force
The College of Agricultural, Consumer and Environmental Sciences is aggressively involved in finding solutions to current problems in New Mexico. The Water Task Force is an interdisciplinary team of researchers, scientists, and other experts that conduct commissioned studies and other work. This link leads to the Water Task Force research reports.
---
Additional NMSU Publications
How-to Guides and Circulars
Guide A 102_Measuring Irrigation Water With a Flow Meter

Flow meters are excellent devices for measuring flow in an irrigation pipe. The principle of operation of the flow meter is simple. The speed of the flow is measured by the water turning the propeller as it passes by, and the area is determined from the size of the pipe. The dial of the meter then reads directly in gallons or cubic feet of flow. Rates of flow such as gallons per minute or cubic feet per second are then obtained by simply noting the rate of flow on the dial for any given length of time as measured by a watch.
Guide A 104_Estimating Water Flow From Pipes

In recent years, there have been increased demands upon our limited water supply by industry, cities and towns, recreation, and agriculture. So irrigators should use the available water supply more wisely than ever before. Proper management takes the guesswork out of the application of irrigation water to the land.
Guide H 644_Leaching Requirements of Pecan and Fruit Trees

Irrigation water contains dissolved salts that can accumulate in the root zone as evapotranspiration (Et) removes irrigation water and leaves the salts behind. As excess quantities of soluble salt accumulate in the root zone, trees have difficulty in extracting water from the salty soil water solution, and transpiration and the resulting growth are reduced. Excessive salinity build-up can be controlled by applying an additional amount of irrigation water often referred to as the "leaching requirement."
Guide W 102_Irrigation Water Analysis and Interpretation

This guide accompanies the Irrigation Water Analysis and Interpretation Workbook (below) and is designed for Cooperative Extension Agents, NRCS Field Offices, private consultants, and others who work with individuals who need assistance understanding irrigation water analysis reports. The workbook covers elements of a water quality analysis and assesses limitations associated with an irrigation water source.
---
Journal Articles & External Publications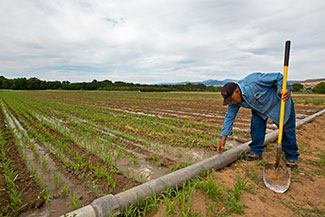 "Linked Hydrologic and Social Systems that Support Resilience of Traditional Irrigation Communities", Hydrology and Earth Systems Science, Vol. 9, 2015:

Southwestern US irrigated landscapes are facing upheaval due to water scarcity and land use conversion associated with climate change, population growth, and changing economics. In the traditionally irrigated valleys of northern New Mexico, these stresses, as well as instances of community longevity in the face of these stresses, are apparent. Human systems have interacted with hydrologic processes over the last 400 years in river-fed irrigated valleys to create linked systems. In this study, we ask if concurrent data from multiple disciplines could show that human-adapted hydrologic and socioeconomic systems have created conditions for resilience. Citation per request of Hydrology and Earth Systems Science: Fernald, A., Guldan, S., Boykin, K., Cibils, A., Gonzales, M., Hurd, B., Lopez, S., Ochoa, C., Ortiz, M., Rivera, J., Rodriguez, S., and Steele, C.: Linked hydrologic and social systems that support resilience of traditional irrigation communities, Hydrol. Earth Syst. Sci., 19, 293-307, doi:10.5194/hess-19-293-2015, 2015. **Abstract only linked**
"Alternative Climate Data Sources for Distributed Hydrological Modelling on a Daily Time Step", Hydrological Processes, Volume 25, Issue 10, Pages 1542-1557, 15 May 2011:

Two major criteria in choosing climate data for use in hydrological modelling are the period of record of the data set and the proximity of the collection platform(s) to the basin under study. Conventional data sets are derived from weather stations; however, in many cases there are no weather stations sufficiently close to a basin to be representative of climate conditions in that basin. In addition, it is often the case either that the period of record for the weather station(s) does not cover the period of the proposed simulation or that there are gaps in the data. Therefore, the objectives of this study are to investigate alternative climate data sources for use in hydrological modelling and to develop a protocol for creating hydrological data sets that are spatially and temporally harmonized. **Abstract only linked**
"Land Use Change Impacts on Acequia Water Resources in Northern New Mexico", Journal of Contemporary Water Research & Education, Issue 137, September 2007:

In Northern New Mexico, the acequia water use regime and attendant acequia-related cultural values are at particular risk due to increasing urbanization pressures and the potential impacts on actual water use, water quality, and riparian vegetation along the Rio Grande and irrigation ditches (Rivera 1998; New Mexico Acequia Association 2006 ). In the research we present in this paper, we employ Geographic Information Systems (GIS), remote sensing, and aerial photography interpretation techniques to create a series of land use maps to assess the impacts of land use change on critical water resources and local communities along the Alcalde Reach of the Upper Rio Grande Basin.
"Collaborative Community Hydrology Research in Northern New Mexico", Journal of Contemporary Water Research and Education, Issue 152, p. 49- 54, December 2013:

In New Mexico, increasing demand for water, combined with limited supplies and periodic drought, is placing additional stress on traditional acequia communities. Research on the hydrology of acequia agriculture in Northern New Mexico has been carried out in three communities and their associated watersheds and irrigated valleys. Critical to the effort has been the participation of the acequias and individual farmers, ranchers, and other community member stakeholders. Participation in hydrology research included assistance in altering flows in acequias, and access to private property and wells, critical to obtain ground and surface water measurements. Further research that integrated hydrologic data with ecosystem, landuse, economics, and sociocultural data, via development of a system dynamics model, required community member participation through surveys, interviews, and workshops to develop, calibrate and refine the model.
"Hydrologic Connectivity of Head Waters and Floodplains in a Semi-Arid Watershed", Journal of Contemporary Water Research and Education, Issue 152, p. 69-78, December 2013:

Hydrologic connectivity can be important when assessing the role of water availability and distribution in sustaining different natural processes and human activities in a given landscape. We present a study that served as one of five case studies for an interdisciplinary modeling course. The main objectives of the study presented are: 1) to characterize the hydrologic connectivity between the uplands and the irrigated valley and; 2) to set the foundations for understanding the connections between hydrology and complementary disciplines of ecology, rangeland management, and system dynamics modeling in a semiarid watershed in the southwestern United States. Study results show a strong hydrologic connectivity between surface and groundwater in the lower agricultural valley that follows a seasonal pattern, driven primarily by irrigation contributions to the shallow aquifer.
"River Hydrograph Retransmission Functions of Irrigated Valley Surface Water-Groundwater Interactions", Journal of Irrigation and Drainage Engineering, December 2010:

Storage and release functions of western U.S. traditional river valley irrigation systems may counteract early and rapid spring river runoff associated with climate variation. Along the Rio Grande in northern New Mexico, we instrumented a 20-km-long irrigated valley to measure water balance components from 2005 to 2007. Hydrologic processes of the system were incorporated into a system dynamics model to test scenarios of changed water use. The modeled simulations showed that the coupled surface water irrigation system and shallow aquifer act together to store water underground and then release it to the river, effectively retransmitting river flow until later in the year. Water use conversion to non-irrigation purposes and reduced seepage from canals and fields will likely result in higher spring runoff and lower fall and winter river flow.
"Hydrologic, Riparian, and Agroecosystem Functions of Traditional Acequia Irrigation Systems", Journal of Sustainable Agriculture:

Traditional cultures in arid landscapes of the southwestern United States and northern Mexico developed irrigation systems to irrigate floodplain valleys along streams and rivers. Many of these traditional irrigation systems, referred to as acequias, continue to be used today. Population growth in the region is creating pressures to convert agricultural land and irrigation water to urban and other uses. Unique hydrologic features of the acequia systems suggest that, beyond providing crop irrigation, they may provide additional valuable hydrologic, riparian, and agroecosystem functions worth maintaining. **Abstract only linked**
"Empowering High Desert Communities Built for Change: Acequia Project", Scientia, November 2018:

Scientia, a science communication publication, just published an article outlining acequia research conducted by a collaborative team of researchers from New Mexico State University (including SASC Alcalde's Steve Guldan), the University of New Mexico, Sandia National Laboratories, and the New Mexico Institute of Mining and Technology. The project was funded by the National Science Foundation in order to investigate how humans and nature interact in a mutually beneficial relationship through our historical and crucial acequia systems. The multifaceted study examined the aspects of socioeconomics, culture, hydrology, and ecosystems in order to understand potential "tipping points" and feedback loops associated with population growth and climate change. A book with the summary and results of the project will be available in 2019. Contact Adrienne Rosenberg at arosen@nmsu.edu for more information.
"Modeling Sustainability of Water, Environment, Livelihood, and Culture in Traditional Irrigation Communities and Their Linked Watersheds", Sustainability, Vol. 4, Issue 11, 2012:

Acequias have survived periods of drought and external shocks from changing economics, demographics, and resource uses. Now, climate change and urbanization threaten water availability, ecosystem functions, and the acequia communities themselves. Do past adaptive practices hold the key to future sustainability, or are new strategies required? To explore this issue the authors translated disciplinary understanding into a uniform format of causal loop diagrams to conceptualize the subsystems of the entire acequia-based human-natural system.
"Deep Percolation and Its Effects on Shallow Groundwater Level Rise Following Flood Irrigation", Transactions of the ASABE, Vol. 50 No. 1:

Deep percolation (DP) from irrigation may be important for groundwater recharge in irrigated agricultural river corridors of arid regions, yet few studies of this physiographic setting have characterized both percolation and its direct effects on groundwater levels. The objectives of our study in a sandy loam, flood-irrigated, alfalfa-grass field in northern New Mexico were to (1) compare DP below the 1 m effective root zone based on water balance method (WBM) and Root Zone Water Quality Model (RZWQM) simulations, and (2) characterize effects of DP on shallow groundwater levels.
"Surface Water and Groundwater Interactions in Traditionally-Irrigated Fields in Northern New Mexico, U.S.A" (Abstract), Water Vol. 9 No. 2, p. 102, February 2017:

Better understanding of surface water (SW) and groundwater (GW) interactions and water balances has become indispensable for water management decisions. This study sought to characterize SW-GW interactions in three crop fields located in three different irrigated valleys in northern New Mexico by (1) estimating deep percolation (DP) below the root zone in flood-irrigated crop fields; and (2) characterizing shallow aquifer response to inputs from DP associated with irrigation. Detailed measurements of irrigation water application, soil water content fluctuations, crop field runoff, and weather data were used in the water budget calculations for each field.
"Water Movement through a Shallow Vadose Zone: A Field Irrigation Experiment", Vadose Zone Journal, Vol. 8, No. 2, May 2009:

Surface irrigation water percolating below the crop rooting zone is important for groundwater recharge in agricultural areas overlying shallow aquifers. The objective of this study was to characterize water movement through the shallow vadose zone following surface irrigation. Two infiltration plots were installed in each of three predominant local soil types. Plots were instrumented to measure soil water content and shallow groundwater level. Data were used to calculate water infiltration, velocity of propagation of the wetting front, water fluxes, and water level response following irrigation. **Abstract only linked**
"A Framework for Assessing Ecosystem Services in Acequia Irrigation Communities of the Upper Rio Grande Watershed", Wiley Interdisciplinary Reviews: Water, Volume 2, Issue 5, pages 559- 575, September/October 2015:

"What we need to do is inventory the different types of agricultural landscapes and bring to light the typical rural architecture, such as the acequias and desagues (irrigation supply canals and excess water drains). We need to find ways of conserving the landscape, including the flora and fauna as well as the role the agricultural landscape has played in the evolution of the surrounding area. Before we abandon the past (flood irrigation) for the contemporary (drip irrigation), we need a thorough analysis of the pros and cons of each system for the whole cultural landscape. The future may be one where the old and new learn to coexist, such as the hoe with the plow." (Arellano, 2014, p. 204). **Abstract only linked**
---
Additional Links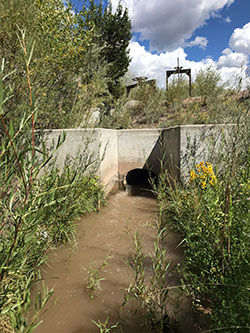 Cultural Energy: Acequias (Radio Website)

March 2013, NMSU held "Acequias and the Future of Resilience in Global Perspective" a CNH Symposium & Workshop Conference in Las Cruces, NM. Cultural Energy recorded the event. Also provided are a series of other radio programs addressing with acequias.
"Colores: Acequias", New Mexico PBS (film):

For centuries, Native Americans of the arid Southwest used a system of ponds and gravity-fed ditches (acequias) to grow crops with the little water they had. When the Spanish arrived in 1598, they utilized their own ditch system that stretched back to the Moors, establishing a unique tradition of irrigation and agriculture. June 1, 1992 | 25:58 | PRODUCER: Cindy Barchus
New Mexico Water Resources Research Institute

The New Mexico Water Resources Research Institute is located in Las Cruces, New Mexico at New Mexico State University. The institute funds research conducted by faculty and students from universities across the state to address water problems critical to New Mexico and the Southwest. The institute also participates in joint efforts to solve water-related problems along the U.S./Mexico border. Through its support of research and its interaction and cooperation with other water resources entities, the institute continuously strives to alleviate water problems, working toward ensuring an ample supply of high quality water for future generations.
NMSU Water Publications

This website page contains an extensive exploration of water and irrigation beyond acequia culture.
"Acequias: The Legacy Lives On", University of New Mexico (Film Trailer):

"Acequias: The Legacy Lives On" is an hour long visually stunning documentary film (currently in production) about New Mexico's enduring acequias as seen through the eyes of farmers, advocates, scholars, practitioners, lawmakers, journalists and members of the community. Award winning filmmaker, Aracely "Arcie" Chapa, is producing and directing an emotional and reverential tribute to acequias' past, present and future. The film unfolds through a series of storylines including the acequias' current challenges, such as climate change and water rights transfers, their important role in the development of local food sheds, and the economic opportunity they provide for members of rural communities. Further, in an arid state where every drop of water is studied and tracked, it has been shown that acequias provide recharge to our groundwater systems as water seeps into the earth beneath the flow. For over 400 years, Acequias have been in continuous use and remain important to an understanding of New Mexico's acequia heritage and the continuing relevance of these water democracies.
"El Agua es Vida: Acequias in Northern New Mexico", University of New Mexico, Maxwell Museum of Anthropology:

"El Agua es Vida: Acequias in Northern New Mexico" portrays the fundamental role acequias play in the environment and in community in Northern New Mexico, where water is a precious resource of increasing scarcity. The exhibition uses a groundbreaking multi-disciplinary study conducted by researchers at the University of New Mexico, New Mexico State University, New Mexico Tech and Sandia Labs. The study, funded by the National Science Foundation, investigates the importance of the acequia system of water delivery and management in generating, transforming and sustaining the landscape.
"Water is Life", The Weather Channel, December 2017:

For centuries, acequias have been the lifeblood of family farms and a vibrant communal culture in hamlets throughout the state. But climate change, a development boom and mounting economic pressures have pushed these systems, and the people who depend on them, to the brink.