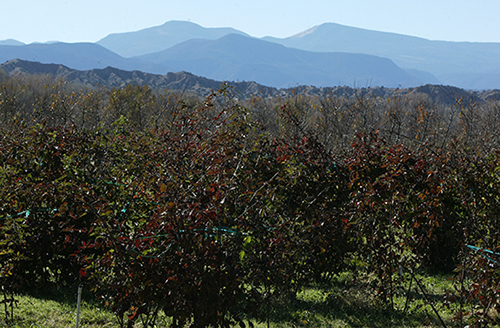 The Sustainable Agriculture Science Center at Alcalde has several projects under way. Below we have information and links to the most recently completed or nearly completed projects and their results.
---
Current Research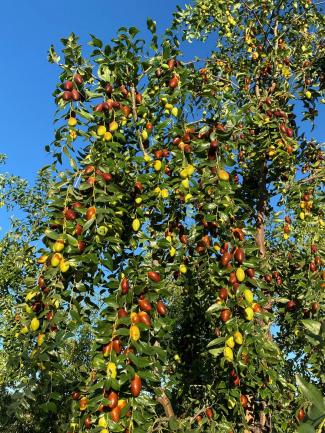 Jujube Cultivar Trial and Marketing
Shengrui Yao | 505-852-4241
Late frost is the most critical issue challenging fruit production in central and northern New Mexico. Jujube, also called Chinese date, adapts well to a wide range of soil and climate conditions. With its late season start-up, same year flower bud initiation and bloom, and two month long blooming period, jujube produces a reliable crop in New Mexico. Currently only 5-6 jujube cultivars are commercially available in the United States. We have collected and imported 50+ varieties to New Mexico State University's Alcalde Center and established cultivar trials at the NMSU Alcalde Center (2015), Los Lunas Center (2015), Tucumcari Center (2016), and Leyendecker Center (2017). Field studies are ongoing. Adapted cultivars will give growers nationwide more choices with extended maturation dates and achieve $1-2 premium per pound. The jujube acreage nationwide is expected to increase significantly.
---
Characterization, Genotyping, and Uses of Jujube Cultivars/ Germplasm in New Mexico
The USDA imported various lines/varieties of jujubes in the early 1900s. Some breeding and line development took place at the USDA Chico, CA, research station. These and other jujube lines/varieties have become dispersed throughout the U.S. but their identities are unclear. Cultivars can be named differently in different areas or imported cultivars were renamed, and some may be synonymous. We will try to identify the synonyms and group jujube germplasm that exists in the U.S. This essential work on cultivar classification will allow effective and efficient research on jujubes in the future. Producers will benefit by having reliable information on jujube cultivars and characteristics.
---
Jujube Open-Pollinated Breeding and Selection
In 2020, seed were collected from five cultivars of jujube at Espanola, Albuquerque, and near Las Cruces. The maternal cultivars were 'Honeyjar', 'Dongzao', 'Zaocuiwang', 'So', and 'Mushroom'. Seed resulted from open pollination as opposed to controlled crosses. Some jujube cultivars are not self-fertile, but can be pollinated by other cultivars in their proximity. These seeds resulted in a total of 175 seedlings which were transplanted into raised beds on June 20, 2021. Selection criteria in this new study will include tree growing habits, fruit size/shape, fruit quality, and yield efficiency.
---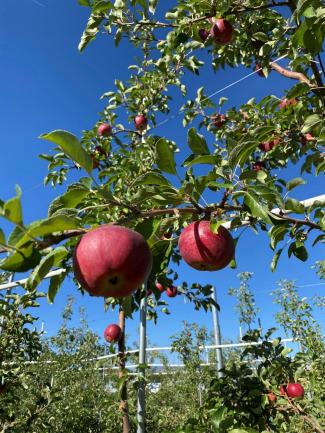 NC-140 Organic Apple Rootstock Trial at Alcalde
Shengrui Yao | 505-852-4241
Apple is the number one fruit species in New Mexico. States with big apple operations utilize high density planting and dwarfing rootstocks to boost crop production; yet, there is limited research on what growing methods are most suitable for New Mexico apple growers. Trees in high density planting systems produce earlier crops with higher yields than conventional systems; higher yields timed for better market pricing could generate more revenue for growers. The NC-140 program is a nationwide rootstock evaluation program for different temperate fruit species (apple, cherry, pear, etc.). We set up our first NC140 organic apple rootstock trial to test different rootstocks for organic planting with the tall spindle system at the NMSU Alcalde Center in 2015. When this 10-year study is complete, growers will be able to adopt the top performing rootstocks for high pH soils and the tall spindle production system to increase their revenue.
---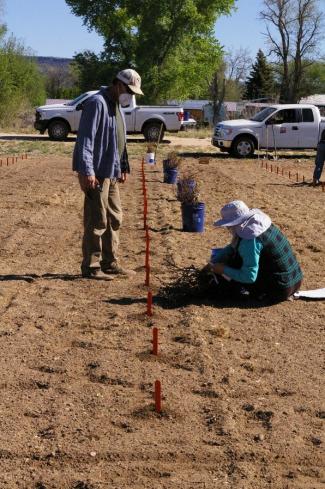 Field Evaluation and Marketability of 15 Table Grape Cultivars in New Mexico
Collaborative study with ASC-Los Lunas and ASC-Farmington
Gill Giese | 505-865-7340
In New Mexico there is potential to expand table grape production and direct-market in farmers' markets, schools, and grocery stores. There is a lack of information on appropriate table grape varieties that producers can grow in northern New Mexico. This statewide effort to evaluate 15 cultivars for suitability to New Mexico's unique edaphic and climatic growing conditions is coupled with ongoing testing of each and in comparison to current market standard cultivars in various retail market venues in order to gauge and quantify consumer acceptance of locally produced table grapes.
---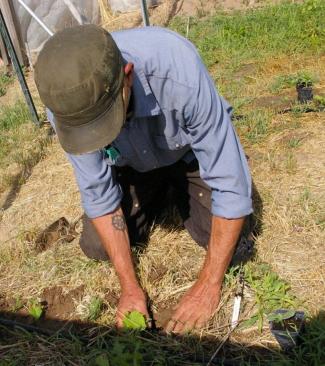 Implementing Soil Health Principles to Study Effects on the Soil Microbiome and Plant Health and Productivity in Organic Hoop House Vegetable Systems
Rob Heyduck | 505-852-4241
Steve Guldan | 505-852-4241
The Natural Resources Conservation Service (NRCS) defines soil health as the "continued capacity of a soil to function as a vital, living ecosystem that sustains plants, animals, and humans." Measurable soil indicators like compaction, soil aggregation, infiltration, soil organic matter, and soil microbial community composition can serve to assess soil health. Improving soil health depends on implementing good management principles, including minimizing disturbance and maximizing soil cover, biodiversity, and the presence of living roots. Increasing soil organic matter as part of a program to increase soil health can also sequester atmospheric carbon in the soil. This study seeks to examine whether the combination of microbial re-inoculation and implementation of soil health management principles in hoop house soils can improve soil fertility, plant health, and plant production.
---
Building Soil Health at Pata Viva Farm in Las Cruces, NM
Beginning in the fall of 2019 and continuing through 2021, Amy Larsen collaborated with Cruces Creatives, 'Seeding Regenerative Agriculture,' a peer support network of farmers, and ASC-Clovis and NMSU Las Cruces based researchers. The scope of work included providing educational presentations to the farmer network on soil testing options in the arid southwest, and collaborating on an on-farm research project in Las Cruces, NM. The goal of the on-farm research trial is to measure changes in soil health in an irrigated intensive vegetable cropping system as it relates to land management. Changes in soil health over a 5-year period will be assessed by measuring soil biological, chemical and physical indicators; performing plant tissue analysis; and comparing annual yields. Land management practices include conservation tillage, planting diverse cover crops, reduced fertilizer application over time, and addition of microbially diverse compost. Increasing soil organic matter as part of a program to increase soil health can also sequester atmospheric carbon in the soil.
---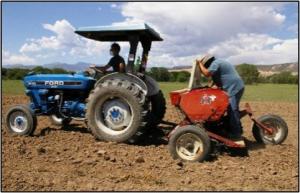 Soil Health Benefits of Diverse Cover Crop Mix
Rob Heyduck | 505-852-4241
Amy Larsen
Cover crops provide numerous soil health benefits including reducing erosion and compaction, and increasing soil organic matter. They can improve soil aggregation and tilth by providing soil cover and a living root in the ground year-round. Increasing soil organic matter as part of a program to increase soil health can also sequester atmospheric carbon in the soil. At Alcalde, we have been experimenting with mixes of cover crop species to achieve maximum soil-building functions in a semiarid climate. The goal of this study is to understand the soil building capacity of a cover crop mix (forage radish, winter pea and oats) when combined with microbially rich compost inoculant (Johnson-Su Bioreactor Compost - JSB) or a legume inoculant.
---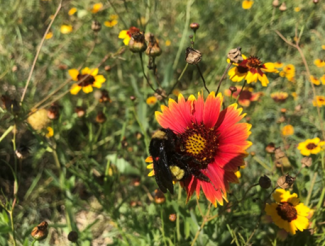 Streamlined Native Bee Monitoring Protocol for Assessing Pollinator Habitat and Bee Bowl Collection
Adrienne Rosenberg | 505-852-4241
The purpose of this research project is to assess native bee populations by comparing a native wildflower field to a field of the more traditional cover and cash crop alfalfa. The project is measuring diversity and collecting individual bees. The project will potentially aid in the conservation of acequia rights, create a demonstration site, establish easy planting methods, and invite native pollinators. According to professional entomologists, native bee data is extremely limited within New Mexico so this project may contribute to a wider understanding of the species present and habitat preferred in northern New Mexico.
---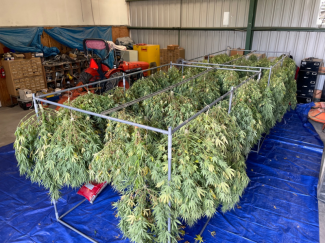 Initial Hemp Variety Trials Across NM Environments
Rebecca Creamer | 575-646-3068
Catie Brewer | 575-646-8637
Hannah Rheay (graduate student)
The project involved the cultivation of CBD ('Sweetened' and 'Wife'), grain ('Anka' and 'Altair'), and fiber ('MS-77') hemp varieties at three NMSU Agricultural Science Centers: Leyendecker, Los Lunas, and Alcalde. The trials evaluated the suitability of different varieties to the unique climatic areas throughout the state, and provided initial scouting opportunities for pests and diseases. The NM hemp industry is faced with challenges entering this new industry and expanding hemp production, as farmers grapple with limited options for biomass utilization and potential detrimental interactions due to pests/diseases shared with other major crops. This work aims to address this problem by finding industrial varieties that are suitable for production in the state, evaluate the potential for establishing hemp market use outside of CBD, and identifying pests that are common to hemp fields. The potential impacts for this project include developing recommendations for hemp farmers based on their location within the state, identifying the most relevant downstream uses for the biomass that is produced in NM, and establishing pest management guidelines for the region.
---
Community Hydrology Research with the Rio Hondo Acequias
Alexander "Sam" Fernald | 575-646-1041/4337
Lily Conrad (graduate student)
Commonly, complex water sharing agreements in acequia irrigation communities of northern New Mexico are based on water data gathered irregularly by local water leaders. The Rio Hondo watershed in northern New Mexico is experiencing drought-induced flow reductions and changing water sharing dynamics between the acequia networks, which rely on water from the same river. These changes in surface water availability and water sharing agreements resulted in local water managers expressing a need for available data to appropriately distribute water between irrigators. Founded on the basis of public impact research and community science, the purpose of this research is to address community need by installing a telemetry monitoring system on participating ditches and analyze the social impacts of real-time monitoring on adaptive capacity within the Rio Hondo acequia community.
---
Sustainable Farming Techniques in Northern New Mexico. Programs led by Del Jimenez (djimenez@nmsu.edu; 505-929-4707), Agricultural Specialist, CES
High Tunnel Program. To date we have a total of 1695 high tunnels up and producing incomes for our limited resource producers in Northern New Mexico. This year a total of five workshops were performed: two in New Mexico, two in Wyoming and one in Colorado. It has increased season extension to where they have money coming in over a longer period of time throughout the year.
Vegetable Gardening Program. The gardening project has helped families produce food and improve the level of nutrition, and increased interest in gardens.
Seed Program. This project helps put land back in agricultural production and helps individuals grow food for themselves and their community. I receive free seed from NMDA and give this seed free of charge to whoever needs seeds for gardens, pastures, or landscaping.
Bindweed Mite Program. Field bindweed is a serious problem in New Mexico's cultivated land. Its roots can reduce soil moisture below the wilting point of many crop plants. Besides competing for nutrients and water, field bindweed can pull plants to the ground and smother them completely. The Bindweed mite program uses a biological mite to help control this weed.
Livestock Program. This program helps livestock producers develop and implement sustainable ranching practices appropriate for their needs. It introduces alternative production techniques practical and applicable to the producer's requirements. Over 80% of agriculture receipts come from cattle sales in northern New Mexico.
Small Animal Program. This program promotes small animal production. We instruct growers on production practices of small animals that are sustainable. More family units are looking at small animals to produce food for their immediate use.
---
Youth/Student Outreach and Training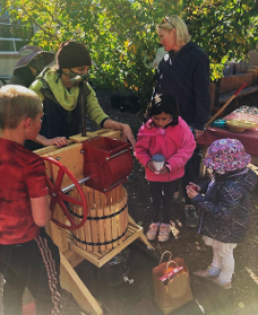 One objective listed in the Alcalde Science Center's Strategic plan is to expand the K-20 outreach program in order to increase student awareness and participation in ACES programs and associated careers. A collaboration with Taos Land Trust and the Youth Conservation Corp led to involving students in apple and jujube fruit harvest at the Station, and subsequent donation of fruit to schools and food banks in Taos and Abiquiu. We plan to expand the program to include not only harvest, but training on pruning, thinning, and irrigation.
The Alcalde Science Center also frequently employs high school interns to work alongside the research team in order to gain insight into agricultural practices, research techniques, farm labor and equipment skills, and general work ethic.
In 2021, Amy Larsen and David and Hui Chun Su Johnson spoke to a middle school science team (near Lubbock, TX) via Zoom about the Johnson-Su Bioreactor compost process and carbon sequestration. The students used this information for their project, which they planned to enter into a national STEM competition.