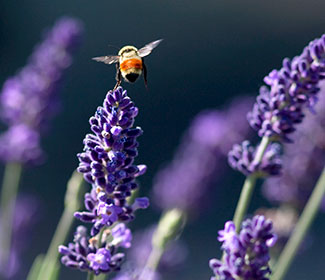 An herb is any plant used as a food, flavoring, medicine, or perfume. At SASC we have been exploring the potential of medicinal herbs as an alternative, high-value crop. Such crops include yerba mansa, cota, and osha. Lavender currently thrives at the farm on a substantial plot.
In addition, the NMSU SASC also partnered with San Juan College, the USDA-ARS Bee Research Lab, and a pair of local producers (Melanie Kirby and Mark Spitzig of Zia Queen Bees and farmer Todd Bates) in an experiment entitled "From Bloom to Boom: Investigating Oregano de la Sierra (Monarda fistulosa) for Potential Bee and Human Health." The project received a year-long USDA Specialty Crop Block Grant Program (SCBGP) in 2016. The goal, as a team of professional farmers and researchers, was to examine and promote Monarda as a new crop and/or accessory planting to positively affect bee health in situ and also produce a hive product and field crop that can be processed in a number of ways either as honey, a dried herb (flowers and leaves), or as an extracted product containing the volatile compounds.
Unfortunately, the lab samples' results portrayed the two antibacterial compounds carvacrol and thymol in the nectar but not in the stored honey. Therefore, it is unknown if the honey from Monarda pollen and nectar actually benefit bees. There were some changes in disease and mite levels. Mite loads decreased after feeding on the Oregano de la Sierra crop but it was observed that the levels rose again. The research trials were funded for one year. There is no more incoming data.
---
SASC at Alcalde Publications
Technical Papers
---
Additional NMSU Publications
Technical Publications
---
Journal Articles & External Publications
---
Additional Links
---
YouTube Videos
Oregano Medicinal Benefits for Bees