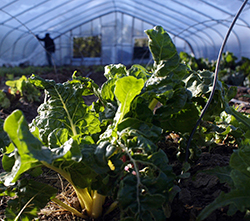 Given the variety and number of small farms in the Northern New Mexico region as well as the ongoing pressures upon agricultural land and water, one of SASC's goals is to help maintain agriculture sustainably by providing evidence-based information to farmers. We do this through research and education.
In addition, we utilize field based techniques and management that are particular to sustainable agriculture. For example, Del Jimenez, Agricultural Specialist, Meet the Team, has been "ranching" the bindweed mite (Aceria malherbae) for years at the Alcalde campus. Del hosts a regular workshop for the public to learn about how the mite infects and therefore diminishes the field bindweed. At the end of the workshop he gives the attendees their own bindweed mites to use at their farm or garden.
---
Additional NMSU Publications
How-to Guides and Circulars
---
Circular 600_Managing Aceria malherbae Gall Mites for Control of Field Bindweed

Field bindweed (Convolvulus arvensis L.) originated in the Mediterranean area and the Middle East but is now found in temperate areas throughout the world. It was introduced into North America in the early 1700s and became one of the most widespread and difficult-to manage weeds on the continent. Field bindweed is a persistent competitor, robbing nutrients and moisture from desirable crops and producing long vine-like stems that clog harvesting equipment . During the 1970s, researchers collected potential agents for biological control in southern Europe. Ten of 155 organisms collected showed value as potential management tools for field bindweed. The most promising of these biocontrol agents for low-humidity areas, such as the semi-arid U.S. Southwest, was the bindweed gall mite, Aceria malherbae Nuzzaci (Acari: Eriophyidae).
---