The northern branch of the Department of Agricultural Economics and Agricultural Business is housed at the Sustainable Agriculture Science Center at Alcalde. RAIPAP provides programs in sustainable agriculture to the thirteen northern counties which comprise the Small Farm and Ranch Task Force.
---
Announcements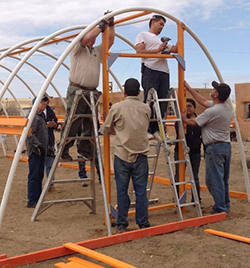 NMSU Receives USDA Grant to Provide Ag Workshops for Pueblo Farmers, Ranchers
During the past 18 years, New Mexico State University has received federal grant funding to provide research-based agricultural information to pueblo farmers and ranchers through workshops, conferences and one-on-one consultation. The College of Agricultural, Consumer and Environmental Sciences has received a $197,492 U.S. Department of Agriculture grant for the 2019 fiscal year. "The funds will be used to continue our outreach program to farmers in the 10 southern and eight northern pueblos in our state," said Edmund Gomez, NMSU program director. "This funding will allow access to our workshops and ag days to all pueblo farmers and ranchers." Through a coordinated effort led by the Cooperative Extension Service's New Mexico Pueblo Outreach Project, the pueblo agricultural producers are made aware of USDA programs that can benefit their ability to own and operate their family farms and ranches; be individually assisted in obtaining participation in these USDA programs; develop markets to increase profitability; and utilize research-based educational and technical assistance programs that are specifically developed for the target audience.