Sustainable Agriculture Science Center at Alcalde
The Sustainable Agriculture Science at Alcalde's mission is to conduct agricultural and natural resource research to benefit small family farms and ranches. We primarily serve north-central New Mexico, including Mora, Rio Arriba, Sandoval, Santa Fe, and Taos counties.
We are open Monday through Friday from 7:30am - 4:30pm.
For general information or questions, please contact the Rio Arriba County Extension Service at 505-685-4523 (Abiquiu) or 575-588-7423 (Tierra Amarilla).
---
Announcements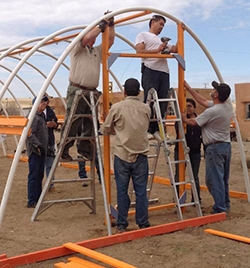 News Release: "NMSU Receives USDA Grant to Expand Agricultural Education Program to 18 Pueblos"

New Mexico State University's beginning farmers and ranchers program that helps Native American farmers and ranchers succeed in agriculture has been extended three more years and expanded to include both the eight northern and 10 southern pueblos. For the past three years, NMSU's Cooperative Extension Service's Rural Agricultural Improvement and Public Affairs Project has conducted the Southern Pueblos Beginning Farmers and Ranchers Program helping 59 Native American beginning farmers and ranchers to improve their agricultural operation.
---
Save the Date!
---
---
Drought Publications
Publications to assist New Mexico's ranchers, farmers, and homeowners cope with our current extreme drought conditions.
---
Sustainable Agriculture Science Center at Alcalde
371 County Road 40
P.O. Box 159
Alcalde, N.M. 87511
Phone: (505) 852-4241
Fax: (505) 852-2857
Email: alcalde@nmsu.edu

#discoverNMSUextension!

Have a favorite NMSU Extension program or story? Share with us how NMSU Extension has impacted your life.
---
---