Sustainable Agriculture Science Center at Alcalde
The Sustainable Agriculture Science at Alcalde's mission is to conduct agricultural and natural resource research to benefit small family farms and ranches. We primarily serve north-central New Mexico, including Mora, Rio Arriba, Sandoval, Santa Fe, and Taos counties.
We are open Monday through Friday from 7:30am - 4:30pm.
For general information or questions, please contact the Rio Arriba County Extension Service at 505-685-4523 (Abiquiu) or 575-588-7423 (Tierra Amarilla). Or go to Rio Arriba County Extension Services
---
Save the Dates!
---
2017 Annual Fruit Grower Workshop
March 2, 2017, 8:30 am- 3:30 pm
Come to Los Luceros Ranch in Alcalde, NM for a day of learning about organic fruit production and pruning with Shengrui Yao, crop selection, Integrated Pest Management (IPM), soil building, FSMA food safety requirements, and more! Lunch and coffee will be provided. Pre-registration is due February 15 with a $12 fee. From February 15- 22, the registration fee is $15. Please contact Joy at Santa Fe County Extension Office at 505-471-4711 or Anna at NMSU Alcalde Center at 505-852-4241 for more information.
---
Mountain West Seed Summit and Field Trip
Summit: "Honoring Origins and Seeding the Future," March 3-4, 2017
Join Seed Stewards from the Mountain West and beyond for three days of seed knowledge and networking in beautiful Santa Fe. The Rocky Mountain Seed Alliance, in partnership with the Rocky Mountain Farmers Union and the McCune Foundation, presents a two-day summit and one-day field trip focused on training and inspiring seed producers across the Rocky Mountain region. The Mountain West Seed Summit will include presentations, demonstrations, hands-on activities, lively discussions, seed exchanges, art, music, and more!
Special Pre-conference Field Trip, March 2, 2017
Full-day field trip to the Tesuque Pueblo Seed Bank, Flowering Tree Permaculture Institute at Santa Clara Pueblo, and NMSU's Sustainable Agriculture Science Center at Alcalde. The field trip includes a locally-grown catered lunch. Space is limited, so register early!
For more information please visit Mountain West Seed Summit
---
Announcements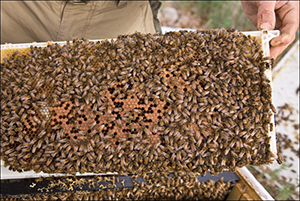 SASC at Alcalde Part of Team that Receives USDA Grant to Conduct Experiment with Honey Bees and Oregano de la Sierra
The NMSU SASC has partnered with San Juan College, the USDA-ARS Bee Research Lab, and a pair of local producers (Melanie Kirby and Mark Spitzig of Zia Queen Bees and farmer Todd Bates) in an experiment entitled "From Bloom to Boom: Investigating Oregano de la Sierra (Monarda fistulosa) for Potential Bee and Human Health."
The project received a year long USDA Specialty Crop Block Grant Program (SCBGP) in 2016. The team will determine the phytochemicals present in the nectar of Monarda fistulosa var menthifolia and in honey originating from its flowers, and evaluate their effects on bee health and nutrition. At each of three Northern New Mexico sites, bees will be fed Monarda nectar in isolation and free-choice. Nectar and honey will be analyzed by gas chromatography for a range of plant chemical compounds that have shown bactericidal, viricidal, and miticidal activity in previous research, among them carvacrol, thymol, p-cymene. By feeding bees in isolation and free-choice, the team will seek to determine a potential bee preference and evaluate the parasite loads of bees fed different diets. The team also aims to identify a range of native pollinators that also visit Monarda. Results will be disseminated through a local field day, through the website Herbs4Bees, and at national and international professional meetings.
The goal, as a team of professional farmers and researchers, is to examine and promote Monarda as a new crop and/or accessory planting to positively affect bee health in situ and also produce a hive product and field crop that can be processed in a number of ways either as honey, a dried herb (flowers and leaves), or as an extracted product containing the volatile compounds.
---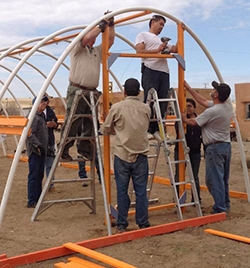 NMSU Receives USDA Grant to Expand Agricultural Education Program to 18 Pueblos
---
---
Drought Publications
Publications to assist New Mexico's ranchers, farmers, and homeowners cope with our current extreme drought conditions.
---
Sustainable Agriculture Science Center at Alcalde
371 County Road 40
P.O. Box 159
Alcalde, N.M. 87511
Phone: (505) 852-4241
Fax: (505) 852-2857
Email: alcalde@nmsu.edu

#discoverNMSUextension!

Have a favorite NMSU Extension program or story? Share with us how NMSU Extension has impacted your life.
---
---