Sustainable Agriculture Science Center at Alcalde
We are open Monday through Friday from 7:30am - 4:30pm.
For general information or questions, please contact the Rio Arriba County Extension Service at 505-685-4523 (Abiquiu) or 575-588-7423 (Tierra Amarilla). Or go to Rio Arriba County Extension Services.
---
Save the Dates!
Jujube Growing Habits and Pruning Workshops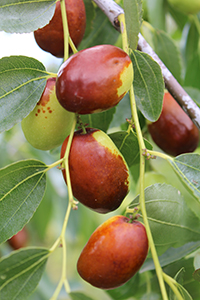 NMSU Los Lunas Center Pruning Demonstration
Thursday, March 22, 2018, 2:00-3:00pm
NMSU Alcalde Center Presentation + Pruning Demonstration
Thursday, March 29, 2018, 1:30-3:30 pm
Join Shengrui Yao to prune and learn about jujubes. Jujube (Ziziphus jujuba Mill), also called Chinese date, red date, or Tsao, is native to China. The jujube fruit is nutritious. It can be relied on to produce a crop every year, because it flowers late and therefore avoids late-frost crop losses common with apples, peaches, cherries, and other traditional tree fruit.
For registration: please call Anna/Augusta at 505-852-4241 or do it online at http://rsvp.nmsu.edu/rsvp/jujubehabits
---
Announcements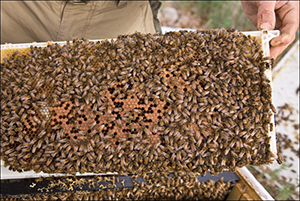 SASC at Alcalde Part of Team that Receives USDA Grant to Conduct Experiment with Honey Bees and Oregano de la Sierra
The NMSU SASC has partnered with San Juan College, the USDA-ARS Bee Research Lab, and a pair of local producers (Melanie Kirby and Mark Spitzig of Zia Queen Bees and farmer Todd Bates) in an experiment entitled "From Bloom to Boom: Investigating Oregano de la Sierra (Monarda fistulosa) for Potential Bee and Human Health."
The project received a year long USDA Specialty Crop Block Grant Program (SCBGP) in 2016. The team will determine the phytochemicals present in the nectar of Monarda fistulosa var menthifolia and in honey originating from its flowers, and evaluate their effects on bee health and nutrition. At each of three Northern New Mexico sites, bees will be fed Monarda nectar in isolation and free-choice. Nectar and honey will be analyzed by gas chromatography for a range of plant chemical compounds that have shown bactericidal, viricidal, and miticidal activity in previous research, among them carvacrol, thymol, p-cymene. By feeding bees in isolation and free-choice, the team will seek to determine a potential bee preference and evaluate the parasite loads of bees fed different diets. The team also aims to identify a range of native pollinators that also visit Monarda. Results will be disseminated through a local field day, through the website Herbs4Bees, and at national and international professional meetings.
The goal, as a team of professional farmers and researchers, is to examine and promote Monarda as a new crop and/or accessory planting to positively affect bee health in situ and also produce a hive product and field crop that can be processed in a number of ways either as honey, a dried herb (flowers and leaves), or as an extracted product containing the volatile compounds.
---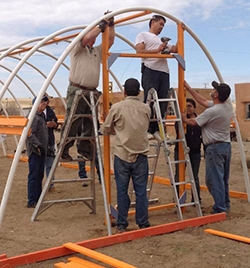 NMSU Receives USDA Grant to Expand Agricultural Education Program to 18 Pueblos
News Release: "NMSU Receives USDA Grant to Expand Agricultural Education Program to 18 Pueblos"

New Mexico State University's beginning farmers and ranchers program that helps Native American farmers and ranchers succeed in agriculture has been extended three more years and expanded to include both the eight northern and 10 southern pueblos. For the past three years, NMSU's Cooperative Extension Service's Rural Agricultural Improvement and Public Affairs Project has conducted the Southern Pueblos Beginning Farmers and Ranchers Program helping 59 Native American beginning farmers and ranchers to improve their agricultural operation.
---
---
Drought Publications
Publications to assist New Mexico's ranchers, farmers, and homeowners cope with our current extreme drought conditions.
---
Sustainable Agriculture Science Center at Alcalde
371 County Road 40
P.O. Box 159
Alcalde, N.M. 87511
Phone: (505) 852-4241
Fax: (505) 852-2857
Email: alcalde@nmsu.edu

#discoverNMSUextension

Have a favorite NMSU Extension program or story? Share with us how NMSU Extension has impacted your life.
---